Economy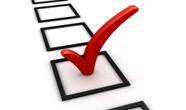 Order Rates Expected to Accelerate Say Steel Buyers
Written by Sandy Williams
May 5, 2015
---
Steel buyers in the April ISM Steel Buyers Survey are expecting general economic activity to remain the same during the next six months but were more optimistic regarding sales and production in their specific industry. Forty percent of buyers expect the trend for sales and production to improve, compared to 30 percent in March. Fifty percent are expecting more of the same.
New order activity over the next three months is expected to pick up said 50 percent of buyers compared to 23 percent in March. Back logs are expected to increase over the next three months as well.
Current tons on hand would cover 1-2 months for 70 percent of those responding with 20 percent projecting inventory for 0-1 month. Most, 70 percent, said inventory is about right compared to demand and plan to maintain levels during the next six months. The balance of buyers, 30 percent, said inventory levels are too high with most planning to decrease stocks during the next six months.
Current shipping levels are above three months ago said 50 percent of buyers, while 40 percent said they are comparable. Compared to 12 months ago, 70 percent say shipping levels are up.
Selling prices were viewed as competitive by 70 percent of buyers, but 20 percent said they were very weak (compared to 15.4 percent in March).
At present production rates and with no new orders, current order books would last 1-2 months for half of those surveyed, 2-4 months for 20 percent, 4-6 months for 20 percent and six months or more for 10 percent.
Ten percent of buyers reported workforce on short time or layoff, and 60 percent expect to hire new people. Plans to buy or build new manufacturing facilities in the next year were nixed by 70 percent of respondents.
Regarding imports, 71.4 percent said their dependence off-shore sources would be the same for the next six months. The number of steel buyers who expect dependence to be greater decreased to 14.3 percent from 18.2 percent. Foreign prices were viewed as below domestic by 40 percent of buyers and well below domestic by 10 percent. Foreign mills are becoming less aggressive in seeking U.S. business said 40 percent, while 30 percent see no change, and 30 percent find them to be more aggressive.

Latest in Economy