Service Centers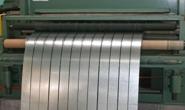 Lee Steel Enters Purchase Agreement with Union Partners
Written by Sandy Williams
August 20, 2015
---
Lee Steel has sold all of the assets of its Wyoming, MI operations (Grand Rapids facility) and its working capital assets at the Romulus, MI facility to Union Partners I LLC, an affiliated group of service centers. The Romulus facility will be consolidated into the Wyoming facility and there will be no interruption in service to Lee Steel customers. Lee Steel will continue its distribution capabilities in the Detroit area as a complement to its Wyoming operations.
The Union Partners, an investment holding company focused on metals and logistics industries, includes among its service centers Lexington Steel Corporation, LexWest, LLC, Lex South, LLC, Mapes & Sprowl Steel LLC, Chicago Steel Holdings LLC, JIT Steel Services LLC, Opus Metals LLC, and other strategic alliances in the metals and logistics industries.
"We are pleased to be a part of the Union Partners group of companies," said Zachary Taylor, CEO of Lee Steel, "and are appreciative of the ongoing support of our customers, employees, and vendors. This is the dawn of a new day for Lee Steel, and the entire Lee team is excited about the future."
Lee Steel, which has 35 employees, will continue to be operated as an ongoing, top-tier service center under Union Partners.
Lee Steel supplies flat rolled coil and blanks primarily to the furniture, automotive, and tubing industries. Steel types include hot rolled, cold rolled, and coated products, with a specialty in supplying Exposed painted and electrogalvanized steel.
At its facility in the Grand Rapids, MI area, Lee Steel has a Herr Voss Strand Extensioner slitting line, as well as a Red Bud multi-blanking line with a Stretcher-Leveler. Both lines can run exposed material.
Latest in Service Centers