Steel Products Prices North America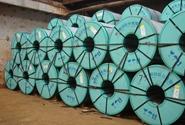 AIIS Reports Steel Imports Fell in December and 2015
Written by Sandy Williams
February 2, 2016
---
We thought our readers might be interested in seeing what steel imports were from the American Institute for International Steel perspective. Steel imports declined 12.6 percent in 2015 according to data analyzed by the American Institute for International Steel. The press release from AIIS follows:
Falls Church, VA. February 2, 2016. Steel imports closed out 2015 well below their 2014 levels, with the United States bringing in one-eighth less steel than it did the year before.
In December, imports fell 5.4 percent from November and were down 36.2 percent from December 2014 at 2.32 million net tons. Imports from Brazil fell by half from November to 193,000 net tons, which was 55.2 percent less than in the previous December, while imports from South Korea declined 25.5 percent from November and 44 percent from a year earlier to 235,000 net tons. Imports from Canada were largely unchanged from November at 434,000 net tons, though this was 10.8 percent less than in the last month of 2014. The European Union recorded the only significant increase, as that block of nations increased its sales of steel to the United States by 18.8 percent from November to 469,000 net tons. This, however, was nearly 32 percent less than in December 2014.
For all of 2015, steel imports fell 12.6 percent to 38.77 million net tons. The biggest decrease was in steel from Russia, which was down 54.8 percent at 2.12 million net tons. Imports from the European Union declined 15.2 percent to 6.06 million net tons, from Canada 4.2 percent to 5.8 million net tons, and from South Korea 11.4 percent to 4.85 million net tons. Imports from Brazil, however, increased 5.8 percent to 5.32 million net tons.
December's semifinished imports were down 55 percent from December 2014 at 306,000 net tons. For the full year, semifinished imports declined 31.8 percent to 7.23 million net tons.
Steel imports may not be considered an official "leading economic indicator," but they are still a pretty good sign of how things are going. As imports fell four out of the last five months of the year, sinking to levels far below a year earlier, the nation ended 2015 with fourth quarter growth of just 0.7 percent. That dismal showing for the holiday season now leads into what has recently been the worst quarter for the U.S. economy. Q1 growth has often been weak or even negative since the Great Recession, a phenomenon that is often attributed to harsh winter weather, and the recent East Coast snowstorm certainly slowed economic activity for a time. At the same time, other worrisome factors continue to weigh on the economy, notably the deepening slowdown in China, the world's second largest economy, grim economic data in Canada, which recently sent the Canadian dollar to a 13-year low, and the oil price shock. The continued presence, depth, and duration of these and other factors lead us to expect that steel imports will likely continue to trend downward in early 2016, and perhaps beyond.

Latest in Steel Products Prices North America