Steel Mills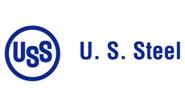 US Steel Contract Ratified
Written by Sandy Williams
February 2, 2016
---
USW members ratified a new three year contract with US Steel on Monday. The ratification passed by a 2-1 margin and will take effect immediately.
"I am extremely proud of the solidarity and the commitment to fairness that the Steelworkers showed throughout this process," said USW International Vice President Tom Conway, who led the union's bargaining committee. "These hard-working men and women were determined not to be made scapegoats for what is a global crisis."
The new labor agreements covers 18,000 workers at US Steel's domestic flat-rolled and iron ore mining facilities as well as tubular operations in Fairfield, Ala., Lorain, Ohio and Lone Star. Texas. The new contract keeps wages the same but increases the profit sharing percentage that will give employees higher payments once the company rebounds from the current steel crisis. Health care changes for employees and retirees were kept "modest" said the USW. Workers can expect slightly higher co-pays and deductibles in their health insurance coverage. The agreement is effective retroactive to Sept. 1 and contains no-strike provisions.
"The past year has been a difficult one for the steel industry, for USW members, and for manufacturing towns all across this country," said USW International President Leo W. Gerard. "The key to weathering this crisis is not to attack each other, but to work together to find solutions to our common problems – namely the severe imbalance and unfairness in our trade system. This must be our shared goal as we move forward."
US Steel posted a loss of nearly one billion dollars for fourth quarter due to challenges from high levels of illegally low-priced imports and declining demand from the oil and gas industry.
Mike Millsap, who serves as USW District 7 director and secretary of the bargaining committee, said the union looked forward to working with U.S. Steel to address the industry's trade imbalance and to position the company and its work force for future success.
"We are pleased with the outcome of the ratification vote. We believe these three-year agreements are in the best interests of our company, our employees and all of our stakeholders," said US Steel President and Chief Executive Officer Mario Longhi in a statement from the company.

Latest in Steel Mills