Steel Mills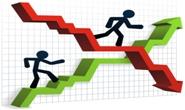 Olympic Posts Loss for Q4 and 2015 But Sees Improvement Ahead
Written by Sandy Williams
February 24, 2016
---
"It would be an understatement to say 2015 was a difficult year in the steel industry," said Olympic Steel president and COO David Wolfort during the company's earnings conference call.
Olympic Steel reported a net loss of $5.0 million for fourth quarter 2015 and a net loss of $26.8 million for the full year 2015. Consolidated sales were $237.5 million, down from the $326.7 million fourth-quarter 2014. Full-year net sales fell 18 percent to $1.2 billion.
Shipments of carbon flat products declined by 15 percent to 230,000 tons resulting in full year 2015 shipments declining 11 percent to 1.04 million tons.
Olympic met industry headwinds by reducing inventory by 34 percent or $100 million in 2015. As a result, gross margins increased year over year to 20.7 percent in Q4 from 17.9 percent the year from Q4 2014. Gross margin for the full year 2015 was 19.8 percent, up from 19.2 percent.
"Although steel prices have firmed from the 2015 market lows of December, the industry environment remains uncertain. Our proven and continued discipline in cost containment and working capital management supported by a flexible, low-cost debt position is the right approach to weather persistently weak industry conditions. We believe that we are favorably positioned to take advantage of the market," said Chairman and CEO Michael Siegal.
During the earnings call Wolfort commented on deteriorating industry conditions in 2015 due to imports:
"Furthing import volumes of foreign subsidized steel poured into the U.S. and created a perfect storm of confounding factors that literally crushed steel prices, exacerbated by the strong US dollar—a welcome mat for foreign steel."
Wolfort said the company was pleased with recent trade action actions, saying "some action is better than no action."
Steel pricing is better than it has been in months following recent mill increases. "A $40/ton December price increase was followed by $20/ton published increase in January of this year," said Wolfort. "The CRU index as of yesterday was $398/ton which is a $44/ton improvement over the December low and we would conclude the first price announcement has been absorbed."
Olympic expects gross margins to get a meaningful lift in the second quarter after low contract pricing set in December is reset in March.
In response to a question on margins, Siegal responded, "I think you will see some marginal improvement in the first, but recognize that a lot of our contract business contract is quarterly and a lot of that was set in December at the low prices in December and that would reset somewhere in March, so we would see the impact of the real market place probably more in the second quarter. But certainly we are seeing some improvement in the spot market margins but it will be offset by the year end pricing leading into the first quarter contract."

Latest in Steel Mills