Steel Products Prices North America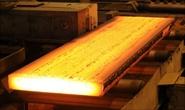 SMU LinkedIn Group Post Begins Slab Debate
Written by John Packard
March 6, 2016
---
Steel Market Update posted one of our articles from Thursday evening's issue of our newsletter (Steel Market Update Publisher Quoted Around the World) and in the process comments were made that started a debate on a subject SMU has addressed in the past: the purchase of foreign steel slabs by domestic steel mills.
After the article was published a comment was made by one of our LinkedIn group members who said, "Of course I don't imagine that any of the domestic mills called to complain about the millions of tons of slab and band that they themselves are importing. This is a curious topic that the news media, most analysts, and politicians have kept as the industry's "dirty little secret". Where are the cries for tariffs on Brazilian slabs and Korean hot bands?"
Dan DiMicco, retired CEO of Nucor responded to the comment with, "Dead wrong it is a big issue being discussed now and in the past … so much for dirty little secrets…."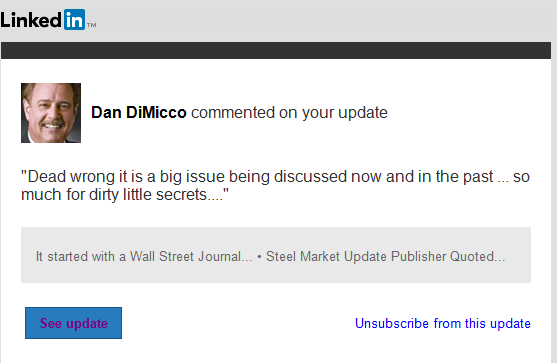 The exchange continued, "Dan with all due respect I have not heard one active CEO, politician, or even journalist making an issue of this. Lots 'o talk about cold rolled, tubular, Chinese, Turks, and so on. But not once have I heard an active CEO talk about slabs being a problem. In fact one tried to say that "slabs are immaterial" at an industry event last March, all the while carping about the steel his customers were importing."
The original person commenting continued, "Dan if you'd like to discuss this some time I'd be happy to talk with you. I'm quite familiar with the slab trade, why it's done, where it's done, how it's priced. I myself have probably imported close to 750,000 tons over the years. I have no problem with them per se, but the hypocrisy that comes from the industry on the subject , including AISI members who are big importers, is breathtaking."
Mr. DiMicco responded, "Trust me with all due respect! You won't hear about it till it's done. This has been a hot issue with all those not buying slabs or billets many times over the last 16 years. It is being discussed in Washington as I type."
"Awesome Dan. In my past life I was down in Tubarão buying slabs by the boat load, whilst on the same day my boss was in DC lobbying to keep the imports out! (Except, of course, slabs). At least I only bought if my melt shops were running flat out. That was the deal with the Union."
There are a number of domestic steel mills who purchase slabs from foreign sources. A number of the mills do it because they do not have steelmaking capacity and are rolling mills only (conversion mills). This includes California Steel, NLMK USA in Farrell, Pennsylvania, AMNS Calvert (former ThyssenKrupp mill in Alabama) and plate mill Evraz in Portland, Oregon. AK Steel is slab short (i.e. they have the ability to roll more steel than they can produce) and will buy slabs on the foreign markets when deemed necessary.
On top of these mills there are a number of domestic mills that buy hot bands (hot rolled coil) which is then converted to cold rolled and/or coated products. This includes USS/Posco on the West Coast, CSN in Terre Haute, IN and Steelscape in the state of Washington.
The amount of tonnage of slabs and hot rolled coil is not insignificant and combined represents anywhere from one quarter to as much as one third of the total foreign steel imports during any specific month.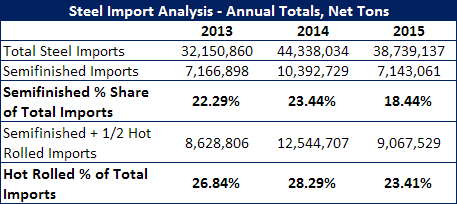 Latest in Steel Products Prices North America