Economy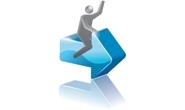 ISM Manufacturing Index Expands for First Time in 6 Months
Written by Sandy Williams
April 2, 2016
---
In what is hoped to be good news for the steel industry, manufacturing as measured by the latest Manufacturing ISM Report on Business expanded for the first time in six months. The PMI, or Purchasing Managers Index, increased 2.3 percentage points to register 51.8 from a reading of 49.5, indicating expansion in manufacturing and the 82nd consecutive month of growth for the overall economy.
New Orders and Production grew at a faster rate in March gaining 5.8 points and 2.4 points, respectively. Supplier deliveries were slower in March as indicated by a reading of 50.2. Raw material inventories contracted again in March but at a slower rate than February. Customer inventories were considered too low for the second consecutive month. Backlogs of orders grew for the first time since May 2015.
The Prices Index rose 13 points to 51.5 in March indicating an increase in raw materials for the first time since October 2014.
Employment levels for manufacturing decreased for the fourth month in a row. The Index registered 48.1, falling 0.4 points.
Imports contracted for the second consecutive month with Primary Metals among the industries reporting a decrease in imports.
The average PMI for the first three months of 2016 is 49.8 percent which corresponds to a 2.1 increase in GDP on an annualized basis, the 82nd consecutive month of growth for the overall economy,
Looking at the PMI on a three month moving average you can see the index peaked in October 2014 (58.2) followed by a downward trend throughout 2015 except for a short-lived gain in July. The 3MMA PMI fell to the contraction threshold in October 2015 (50.10) and reached a recent low of 48.20 before heading upwards again in the past two months.
The recent uptick in the PMI indicates that manufacturing may be pulling out of its rut and may provide a boost to the economy in the coming months.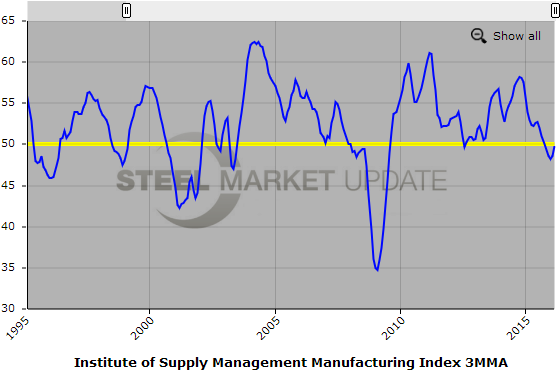 A selection of respondent comments follows:
"Capital equipment sales are steady." (Fabricated Metal Products)
"Requests for proposals for new equipment [are] very strong." (Machinery)
"Government is spending again. Have received delivery orders." (Transportation Equipment)
"Business conditions are stable, little change from last month." (Miscellaneous Manufacturing)
"Our business is still going strong." (Primary Metals)

Latest in Economy