Steel Products Prices North America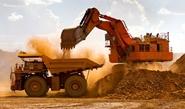 Iron Ore Prices Plummet After Trading Frenzy Ends
Written by Sandy Williams
May 10, 2016
---
Rising stockpiles of iron ore in China have sent iron ore futures plummeting in the past week. A frenzy of speculation had pushed benchmark prices for ore to a 15 month high last month. Prices have fallen 22 percent since the peak of +$70 on April 21. This morning The Steel Index reported 62% Fe fines delivered to Port of Tianjin, China at $54.20 per dry metric ton.
Iron ore inventories at ports in China increased 1.4 percent to 99.85 million tons last week, according to data from Shanghai Steelhome Information Technology. Holdings have expanded 7.3 percent so far this year.
Easy credit terms, meant to support China's slowing economy, helped fuel the speculative trading.
"Low yields on government debt, rising corporate default rates, the experience of being burned in the stock market last year and the flood of credit pumped into the financial system as the policymakers try to reflate the economy have combined to generate a wave of speculative activity in commodity markets, particularly futures markets," wrote The Australian on Tuesday.
Bloomberg reports that China exchanges increased fees, cut hours, and boosted margins in raw-material futures in attempt to stem the trading furor.
"The recent price spike was well above the levels supported by market fundamentals," said Gerard Burg, senior Asia economist at National Australia Bank Ltd. in Melbourne. In a Bloomberg report Burg said, "Stocks have been steadily rising, given the rebound in imports. This highlights again that the market isn't that strong, and the price spike was excessive."

Latest in Steel Products Prices North America