Steel Mills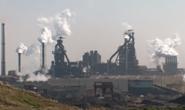 Rumors of Potential Buyers for US Steel Kosice
Written by Sandy Williams
July 27, 2016
---
US Steel Kosice, located in Slovakia, is attracting attention from Chinese, Russian and South Korean investors according to a report by BNE Intellinews.
The steelworks is Slovakia's biggest employer in an area of high unemployment. Local media outlet SME said analysts are suggesting the mill may be taken over by South Korean steel mill POSCO which has an established relationship with US Steel.
US Steel considered selling Kosice three years ago but decided to keep the plant after receiving incentives from the government. According to BNE Intellinews, US Steel has been in contentious flights with the union and government regarding its plans for the plant.
Intellinews reported thee Slovak government said in May it would consider buying a stake in the plant if US Steel seeks an exit by "selling to a 'non-standard' owner."
SME reported that Russia's Metallaoinvest group and an unnamed Chinese company have shown interest in the Kosice plant as well as POSCO.
US Steel reported a strong performance for its European segment in Q2 with capacity utilization at 101 percent.
Latest in Steel Mills