Steel Mills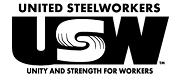 USW Objects to New Layoffs at US Steel Gary Works
Written by Sandy Williams
August 16, 2016
---
Union workers are objecting to the layoff of 38 workers at US Steel Gary Works on Friday.
USW District 7 director Mike Millsap said the workers were laid off after consulting firm McKinsey & Co determined there were too many maintenance workers at the plant.
"Under the contract, they can only lay off workers under certain conditions," said Millsap as quoted by NWI Times. "We believe these maintenance people are needed. We've got a process, and we're going to fight them on this."
Millsap said that US Steel's reliance on outside contract workers for maintenance is a safety issue for the plant.
Maintenance workers, said Millsap, don't just repair equipment. "They do a lot of maintenance and work on safety issues. They do a lot of preventative safety. A lot of things won't get done if we reduce this staff."
More than a 1,000 hourly and salaried workers at US Steel in Northwest Indiana were laid off last year.
The union plans to approach US Steel with their concerns and, if necessary, appeal the layoffs with an independent arbitrator.
Latest in Steel Mills