Steel Products Prices North America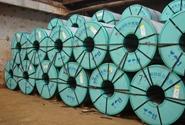 Preliminary August Steel Imports Near 3 Million Tons
Written by John Packard
September 27, 2016
---
On Monday of this week the US Department of Commerce released Preliminary Census Data for August foreign steel imports. Based on the latest data August came in a smidgen below 3.0 million net tons. The DOC has August foreign steel imports as totaling 2,988,724 net tons. This is 277,325 tons fewer than the month of July. At the same time the DOC revised license data for September. Based on that license data we are seeing the trend as having slowed compared to earlier this month. Right now September is trending toward a 2.7-2.8 million net ton month.
In August we saw fewer semi-finished, OCTG, hot rolled, coiled plate and galvanized than the month of July.
When looking at the 12 month moving average (12MMA) and comparing what we think September will end up we are finding:
Semi-finished (mostly slabs) is still around +100,000 net tons above 12 month moving average (August was +145,000 tons). OCTG imports are also growing.
Cold rolled is trending higher at +30,000 tons for September and +57,000 tons in August.
Galvanized is trending toward +7,000 tons above the 12MMA.
Other metallic (mostly Galvalume) is +34,000 tons above 12MMA.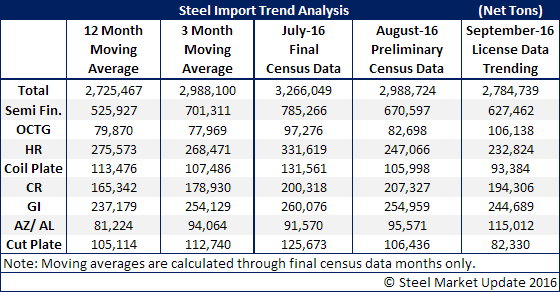 Out of curiosity we took a look at the Vietnamese galvanized and cold rolled import license requests because if the US DOC rules against the country cash deposits could be due as early as October 2016. Vietnam has requested 54,000 net tons of import licenses for galvanized which is more than double what we saw in August and would represent the largest month for Vietnamese exports of GI ever.
Exports of cold rolled out of Vietnam reach 62,500 net tons during the month of August. August was the single largest tonnage number for Vietnam going back to when they first starting bringing tons in during 3Q 2015. At this time September imports of cold rolled out of Vietnam are on pace to exceed 30,000 net tons.

Latest in Steel Products Prices North America