Economy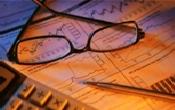 ISM Report on Business Shows Manufacturing Expanding in November
Written by Sandy Williams
December 1, 2016
---
The ISM Report on Business showed economic activity in the manufacturing sector expanding in November for the third month in a row. The PMI, which covers manufacturing activity for the entire United States, rose to 53.2 percent from 51.9 in October.
New orders increased by 0.9 points to 53 percent and production rose 1.4 percentage points to 56 percent, both growing in the past three months.
The employment index decreased by 0.6 points to an index reading of 52.3, still indicating expanding employment levels although at a slower rate.
Supplier deliveries were slower in November and backlogs contracted for the fifth consecutive month.
The raw materials inventory index rose 1.5 percentage points to 49 percent for a seventeenth month in contraction. Customer inventories were considered too low for the second month in a row at an index reading of 49.5 percent.
Raw material prices increased for the ninth month. The price index for raw materials registered 54.5 percent, the same as in October.
New export orders continued to grow, registering an index reading of 42 percent in November, down 0.5 percent from October. The import index slipped 1.5 percentage points last month but at 50.5 percent was still an indicator of expansion for imports. Interestingly, Fabricated Metals and Machinery indicated growth in both import and export orders.
Respondents to the Institute for Supply Management survey had the following comments:
"Raw materials have been rather flat. Ramping up for year-end and reducing inventory is main supply chain goal at this time." (Chemical Products)
"Heading into 2017, our business levels look pretty consistent compared to 2016." (Primary Metals)
"New spec buildings going up in our area. Local companies adding additional production space which equates to higher employment." (Machinery)
"Business conditions are good. Labor market is tightening such that it is difficult to staff to completely fulfill production demand." (Miscellaneous Manufacturing)
"2017 is looking to be a very busy year." (Fabricated Metal Products)
Below is a graph showing the history of the ISM Manufacturing Index. You will need to view the graph on our website to use its interactive features, you can do so by clicking here. If you need assistance logging into or navigating the website, please contact our office at 800-432-3475 or info@SteelMarketUpdate.com.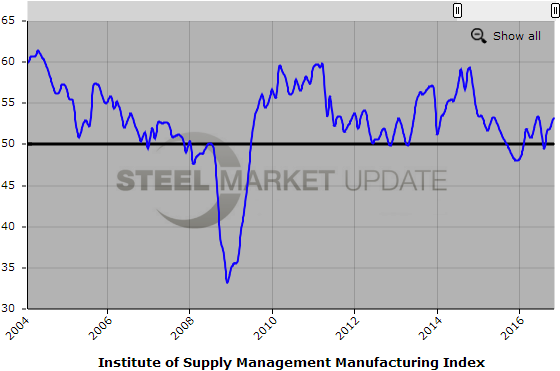 Latest in Economy