International Steel Mills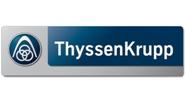 Thyssenkrupp Hit by Cyber Attack
Written by Sandy Williams
December 7, 2016
---
German steel maker Thyssenkrupp revealed technical trade secrets were stolen in a cyber attack earlier this year.
"ThyssenKrupp has become the target of a massive cyber attack," the company said in a statement on Thursday.
Breaches at its plant engineering division were discovered in April and traced back to February. The attacks were attributed to "organized, highly professional hacker activities, located in Asia. The attack targeted divisions that plan industrial and steel plants in Europe. Thyssenkrupp Marine Systems, which builds military ships for the German and Israeli navies, and control systems for its steel division blast furnaces and power plants were not affected.
The company said there was no sign of data manipulation or sabotage but could not estimate the scale of intellectual property loss.
Thyssenkrupp has filed a criminal complaint with police in North Rhine-Westphalia.
The announcement by Thyssenkrupp follows a massive attack on internet server Deutche Telekom last month that affected nearly one million routers in Germany.
In April of this year, US Steel charged that Chinese hackers stole trade secrets in a cyber attack initiated in January 2011. The allegations of misappropriation and use of trade secrets were included in the Section 337 complaint that US Steel brought against China.

Latest in International Steel Mills