Steel Products Prices North America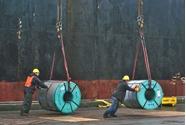 Imports for November (Final) and December (License Data) 2015
Written by John Packard
January 7, 2017
---
On Friday, the U.S. Department of Commerce reported the Final Census numbers for November foreign steel imports into the United States.  November steel imports totaled 2,805,763 net tons. This was approximately 100,000 tons higher than October. When looking at the individual items it appears the difference between the two months can be found in the imports of semi-finished steels (slabs and billets) which are only purchased by steel mills.
In October, there were 441,754 tons of semi-finished steels exported to the United States. That number rose to 655,891 tons in November.
At the same time, DOC updated the December license data which is indicating the month will be slightly below November levels at 2,705,161 net ton.
In December's totals the item that sticks out like a sore thumb is galvanized at 309,000 tons. This is well above the twelve month moving average and also higher than the three month moving average. On the flip side, hot rolled is well below both the 12MMA and 3MMA as is cut to length plate.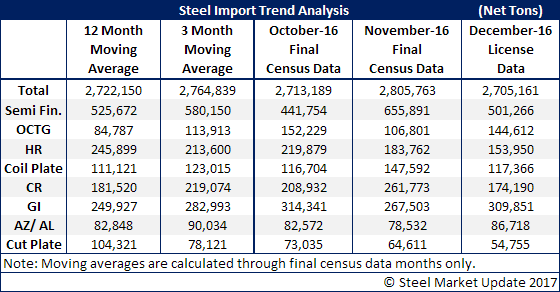 Latest in Steel Products Prices North America