Steel Products Prices North America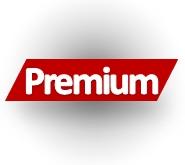 Global Trade of Hot Rolled Coil through Q3 2016
Written by Peter Wright
February 19, 2017
---
This is the second in a series of new reports on global trade of hot rolled and cold rolled products. In the future these articles (the first one was published on Tuesday, February 14th) will be part of our Premium level products and will be published in our Premium supplemental newsletter. If you would like to learn more about becoming a Premium level member please contact us at 800-432-3475 or info@SteelMarketUpdate.com
We are continuing our investigation to quantify the players in the global steel trade of both hot rolled coil and cold rolled coil. In our report published earlier this month we provided an overview for both products. In this latest update we have dug deeper into what is the US share of total global HRC imports, where Vietnam's imports are coming from, and where China's hot rolled exports are headed.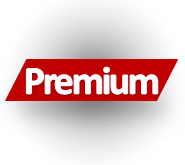 Lets start with a recap of our initial observations. In the first three quarters of 2016 the total global volume of HRC trade was 45.8 million tons not including shipments inside the EU. Figure 1 shows the relative size of China in particular but also that Japan is exporting over half as much as China.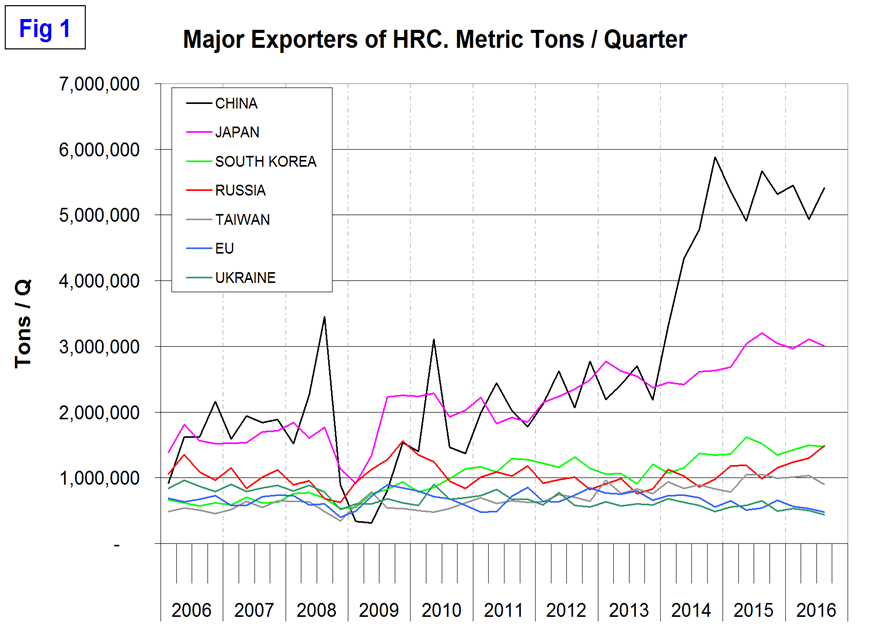 These were the top seven exporting nations in 2016 through Q3. In the last two years Russia has increased its exports by 50 percent. Figure 2 shows the top eight importing nations also based on the total for 2016 through Q3.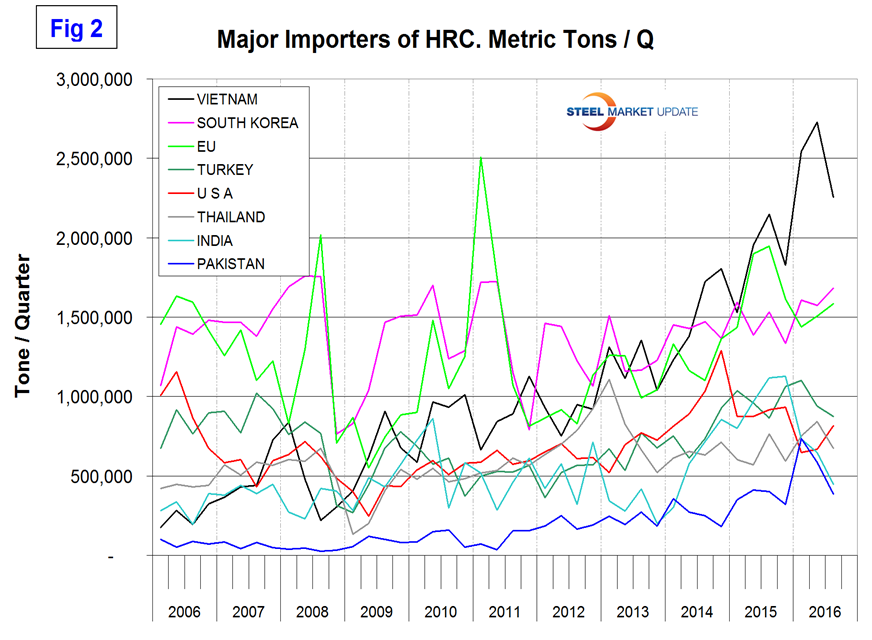 Big surprise, we think is that Vietnam has the highest volume and we wonder to what extent this is related to the further processing of Chinese coil.
The United States imports 5.2 percent of the total volume of HRC that is moving around the world and is in fifth place by tonnage. The EU takes almost twice as much as the US with 10.2 percent. Vietnam took in 14.5 percent and South Korea 10.8 percent in the first three quarters of 2016, Figure 3.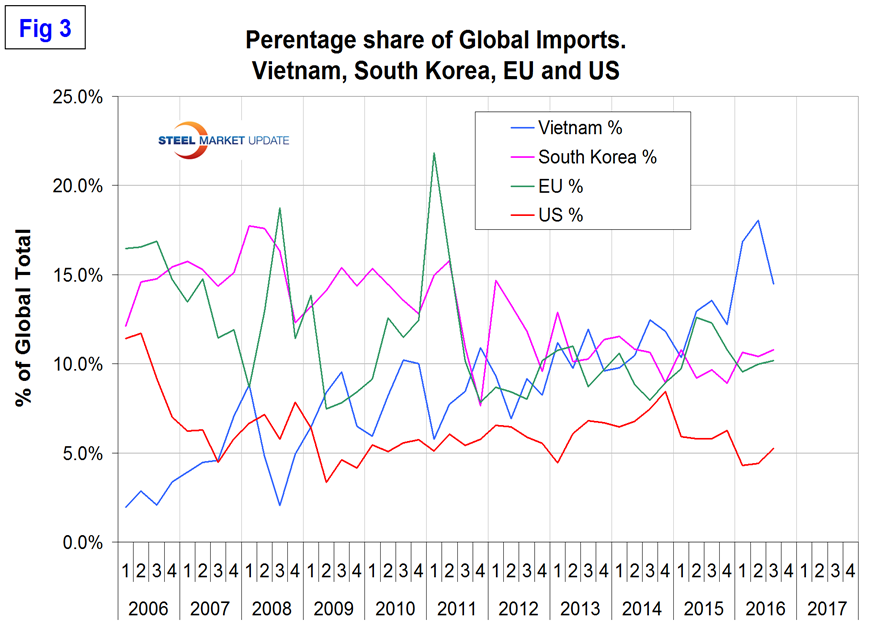 It is evident that the US is not (as has been frequently claimed) the most porous import market in the world. In Figure 4 we see the startling increase in tonnage shipped from China to Vietnam since Q4 2013, an increase of 451.7 percent. Vietnam's other sources have been relatively unchanged.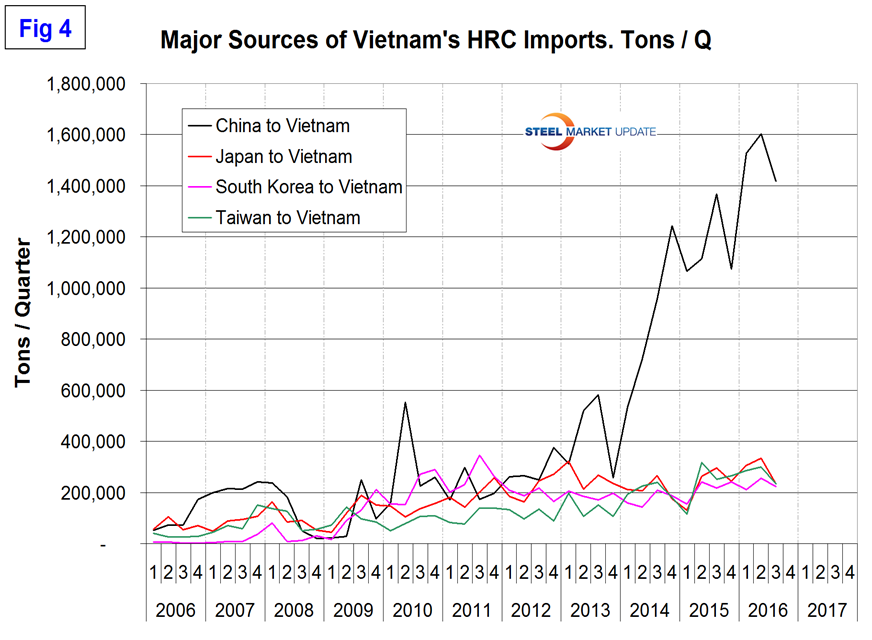 China exported 15.8 million tons of HRC in the first three quarters of 2016. This was 34.7 percent of total global trade as shown in Figure 5.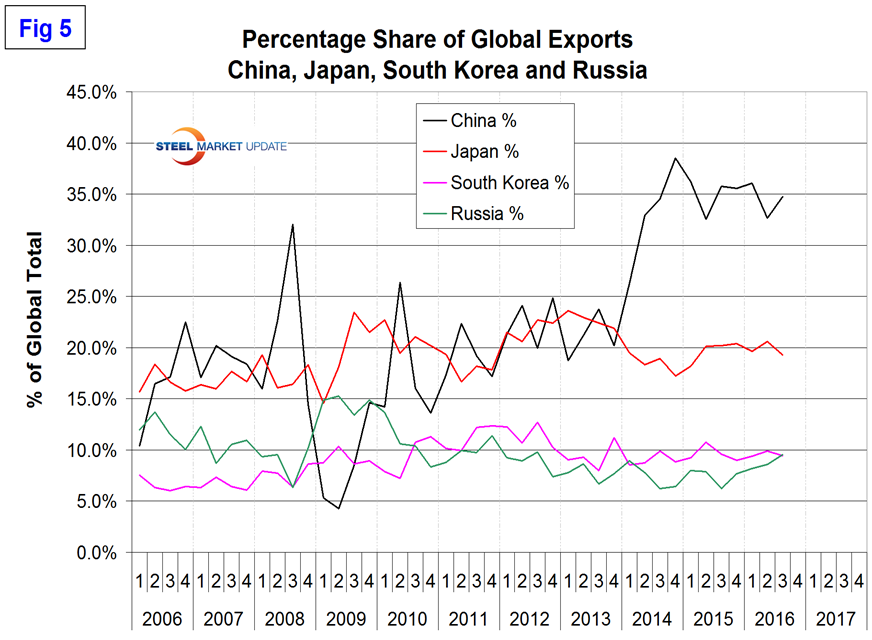 The other highest volume players were Japan, South Korea and Russia. The four major destinations of Chinese material were Vietnam, South Korea, Pakistan and the EU in that order as shown in Figure 6.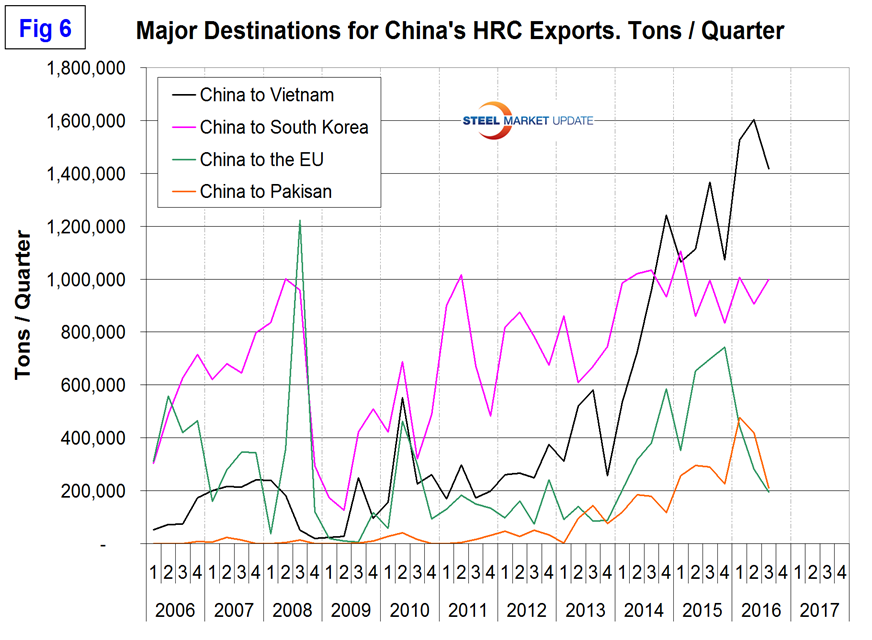 Another surprise in this analysis is that China shipped over 100,000 tons to 22 different countries in the first three quarters of 2016 and in total shipped to 140 different countries. A highly impressive export machine!
Our next step in this analysis will be to repeat the above for cold rolled coil and then when Q4 2016 data becomes available around the 20th of next month we will begin a global summary for both HRC and CRC for our premium subscribers.

Latest in Steel Products Prices North America