Steel Mills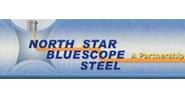 CEO Praises "Stunning" First Half for North Star Bluescope
Written by Sandy Williams
February 21, 2017
---
North Star Bluescope Steel reported underlying EBITDA in the first half of FY 2017 of $180.2 million, an increase of 178 percent from 1H FY 2016 . Sales revenue was US$ 598.7 million.
The mill operated at 100 percent capacity in the first half and benefited from lower conversion costs, particularly in utilities. Shipments for 1H FY 2017 totaled 1,016,500 tonnes and production was 1,061,700 tonnes.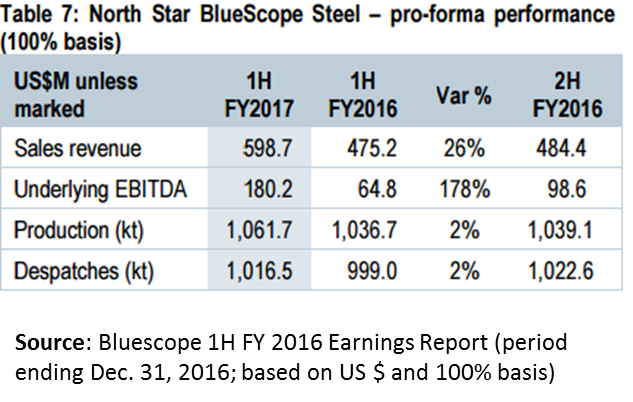 "So the first half of 2017 for North Star was a stunning half and we're looking at a second half 2017 that is also going to be quite good," said Bluescope Steel CEO Paul O'Malley.
The impact of U.S. antidumping and countervailing actions along with higher U.S. steel prices resulted in returning the differential between US and China prices to "average" levels, said Bluescope in its earnings report.
"Six months ago we saw that differential almost at an all-time high," said O'Malley. "The Chinese prices were relatively low and the US prices had peaked. The differentials come back down at the bottom line on the chart closer to the long term average, which is good, but that's happened in a context not with necessarily US prices falling, but with Chinese prices increasing dramatically and just as an aside, the annualised exports out of China at the moment are about down 20% year-on-year. That, for me, is key indicator that either demand is improving in China or excess supply in China is being curbed and I think it's probably both those factors driving that."
Increasing capacity on an "incremental basis for small capital" is continuing at North Star said O'Malley. North Star recently completed its edger project that is expected to add 90,000 tonnes of production by the end of 2017.
Bluescope expects incremental improvement in shipments for North Star in the second half of FY 2017. The average spread is expected to remain similar to first half levels. The automotive sector remains strong and construction is continuing to improve in the second half.
The Bluescope executives were asked to comment on the US spread and whether they believe the current spread at the mid-$200 level is sustainable. O'Mally commented that the long term average of about $150 is a good starting point.
"Over the last four years it's spent most of its time around that $400 level. So whether it's $150 or $200, I think you're probably in the ballpark. I was a bit concerned when it hit $350 because I thought there's no way that's going to be sustainable. What's been really surprising is it dropped down to $100 and bounced again. So that $150 to $200 is probably a reasonable range to look at.
"What's interesting to watch at the moment, and the number I would watch, is the net exports out of China and how that trends, because I think that's a really important indicator of the level of oversupply in the market. And there has been a reasonably small but materially important increase in demand growth across all global geographies.
"So a little bit more steel is being utilized around the globe and there's 20 million tonnes on an annualized basis come out of the Chinese exports, that all material. So that would suggest to me closer to the $200 than the long-term average but it's going to bounce around."
O'Malley provided his insight on U.S. tariffs and demand:
"In terms of tariffs, there is absolutely no doubt that the US industry is going after every single skerrick [small portion] of steel that comes from outside the US. How that manifests itself in that differential I'm not sure, but I think we've already seen it through our business on the west coast, the one that we were just talking about, because there's no doubt the substrate costs through, not only our business but the two other major processors on the west coast, are higher.
"The second thing is that demand is up, and the biggest competition on the west coast is for imported Zincalume and painted product. The prices for those have gone up and been hit pretty hard by tariffs. The third limb, and this is the one that's the unknown, is how tighter the buy American rules are going to be, because there's already been some lost sales out of California Steel Industries that don't qualify for US production.
"And therefore the real limb that I'm not aware of at the moment is if there is a significant step-up in infrastructure spend in the US, how much of that will have to come from North Star relative to importers or processors, for instance, on the west coast. That's the $64 million question."
When questioned on capacity additions to the U.S. market, O'Malley commented that the market will be able to absorb any furnaces coming back online as well as the addition of Big River Steel, especially with the reduction in imports.
"Scrap prices that were falling seem to have stabilised. I think Turkey's jumped back into the market there. We still seem to be able to source pretty competitively. I think the key issue in North America is going to be what happens with the auto industry. It's just marginally softer. But more than offset by increase in demand in oil and gas, steel going to oil and gas and steel going into internal construction. So if there's big infrastructure projects in the US, that's going to hoover up a lot of steel. That's got to be positive for the domestic industry. It will be interesting I think, mini mill capacity utilisation, still a bit low. So there's a fair bit of variable capacity that can be brought on to meet that.
"I think everyone in the US industry's focused on profitability rather than focused on the size of their production, which is a good thing."
About North Star Bluescope:
North Star Bluescope is owned by Bluescope Steel, based in Melbourne, Australia. North Star is a single site electric arc furnace producer of hot rolled coil located in Delta, Ohio. North Star sells approximately 85 percent of its production in the Midwest U.S., with its end customer segment mix being broadly 45 percent automotive, 25 percent construction, 10 percent agricultural and 20 percent manufacturing/industrial applications.
NOTE: Steel Market Update will hold their next Steel 101: Introduction to Steel Making & Market Fundamentals workshop in Toledo, Ohio on April 11-12, 2017. We will be touring the North Star Bluescope mill. If you are interested in attending you can find more information on our website or you can contact one of our offices: 800-432-3475 or 706-216-2140.

Latest in Steel Mills