International Steel Mills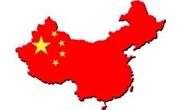 Chinese Steel Market Analysis for the Week Ending February 19th
Written by John Packard
February 21, 2017
---
The following analysis of the steel markets in China is from Beijing Metal Import & Export Co.,Ltd and is being reproduced by Steel Market Update with permission. We edited the original copy to assist our readers in understanding what the group is trying to relay to us. Here is what they had to say (edited version):
Please allow me to update China steel market (Feb 13 – Feb 19, 2017) as usual as following:
Maybe you already know that China steel market was very firm in last week, spot price of Billets increased by RMB130/mt in one week.
In our last report sent on Feb 13, we indicated that China steel market would go up but wouldn't last a long time. As we expected, the market increased sharply last Monday but had slight drop last Tuesday. Under the effect of non-market factors, market turned firm again on last Thursday and Billets reached at the highest level in 2017 last Friday at RMB3170/MT (for your information, highest price in 2016 is RMB3110/mt on Dec 12,2016 and lowest price in 2016 is RMB1660/MT on Feb 12,2016). Under current circumstances, RMB3170/mt will not be the highest price in 2017! Market is still on up trend , the reasons are as follows:
1, Main steel mills' new EXW prices gave market big support. During the last week China main steel mills like Baosteel, Wisco, Anshan steel, Shou steel, Heibei Group all issued new EXW prices. Wisco/Heibei Group up RMB100/mt for all kinds of steel productions, Baosteel increased part of main steel productions, Anshan/Shou steel kept their prices unchanged. We mentioned in our last weekly report that Shagang gave RMB120/mt subsidized price to agencies for the shipment of third ten days of January and first ten days of February, this means Shagang lowered the EXW prices but now other main steel mills aren't following. Please note Shagang will release new prices for 3nd ten days of February and we guess the prices will be increased.
2, Steel demand is increasing + transactions are more active than before. It's reported yesterday that some mills in Shandong started to limit the supply of steels to their agency, only give 60mt max steel per day. Also please note that March/April is always the best months for the Chinese steel market.
3, Two important meetings – the National People's Congress and the Chinese Political Consultative Conference ( NPC & CPPCC )) will be held in Beijing in the beginning of March. In order to get a best weather, steel production will be strictly limited. It's reported that Ministry of Environmental Protection already send several teams to Shandong, Hebei, Henan and Shanxi. Some steel mills already got the order that they will be deducted half of their productions from today until the end of these 2 meetings.
4, Futures market still urges the spot market to go firm.
Taking the above various factors into consideration, steel price will be further firm [rise] in the coming week, some traders are expecting that billets price will touch RMB3800/mt in March, others are even expecting for RMB4000/mt!
What we are focusing on is the price of coke, it dropped by RMB50/mt again in last week and iron ore price also dropped slightly. Now price of raw materials and steel are moving in different directions. As per my calculation,all the mills and traders have profit on sale billets, there is a possibility to low down price for mills [that prices will fall]. I mentioned that every time Coke drops then the steel market will follow, hence I think Chinese steel market will fluctuate on high level in the coming 2 weeks [high prices] – many factors supports it to go up and also deceasing cost of raw materials will force mills to low down EXW price [ultimately if commodity prices for coke and iron ore fall so will steel prices].
Below daily prices of Platts 62% index / Coke / Billets for your information.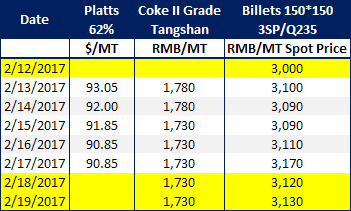 For export, below our offer today just for your reference. Kindly please note market changes very fast, our offer will be adjusted according to market level.

SMU Note: $515/MT hot rolled = $467.20 per net ton FOB Tianjin. Chinese hot rolled is not allowed in the U.S. due to past dumping suits.

Latest in International Steel Mills