Steel Markets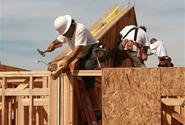 New Home Sales Up 6.1 Percent in February
Written by Sandy Williams
March 23, 2017
---
The U.S. Census Bureau and the U.S. Department of Housing and Urban Development reports sale of new single-family homes jumped in February to a seasonally adjusted annual rate of 592,000, a 6.1 percent increase from January and 12.8 percent year-over-year.
The median sales price of new houses sold in February 2017 was $296,200 and the average sales price was $390,400.
An estimated 266,000 new houses were for sale at the end of February, representing a supply of 5.4 months at the current sales rate.
"February's increase in new home sales is consistent with builders' growing confidence in the housing market," said Granger MacDonald, chairman of the National Association of Home Builders (NAHB). "Builders are encouraged by heightened consumer activity and by the expectation that regulatory costs will decline in the year ahead."
"The uptick in mortgage interest rates is having a minimal effect on new home sales thus far," said NAHB Chief Economist Robert Dietz. "Ongoing job creation, rising household formations and affordable home prices should keep the market on an upward trajectory in 2017."
Regionally, new home sales increased 30.9 percent in the Midwest, 7.5 percent in the West and 3.6 percent in the South, while falling 21.4 percent in the Northeast.
Latest in Steel Markets