Economy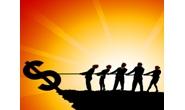 Chicago Business Barometer Climbs in May
Written by Sandy Williams
June 1, 2017
---
The Chicago Business Barometer hits its highest level since January, increasing from 58.3 in April to a reading of 59.5 in May.
New orders fell 4.5 points to 61.4 but production gained 3.7 points for an index reading of 62.3. Order backlogs pulled from contraction after five months of decline. Delivery times for inputs lengthened due to companies maintaining low inventory levels. Despite that, inventories grew at a faster pace in anticipation of summer demand, gaining 2.2. points for an index reading of 55.5.
Factory gate prices eased for the third consecutive month, reported MNI. Prices paid remain elevated, but the increase rate has slowed. Survey responses indicate steel and plastic prices continue to rise.
Employment expanded in May and the employment index climbed 3.3 point. When questioned about hiring plans during the next three months, panelists were optimistic about summer demand, but 33 percent reported that they plan on hiring temporary employees and 27 percent a mix of temporary and permanent, compared to 40 percent who plan to hire permanent employees
"May's rise in the MNI Chicago Business Barometer provides a further boost to the business environment. Rising pressure on backlogs and delivery times accompanied with higher production levels suggests firms' expectations of a busy summer," said Shaily Mittal, senior economist at MNI Indicators.
The Chicago Business Barometer, also referred to as the Chicago PMI, is a composite diffusion indicator made up of the Production, New Orders, Order Backlogs, Employment and Supplier Deliveries indicators and is designed to predict future changes in US gross domestic product (GDP). An indicator reading above 50 indicates expansion compared with a month earlier while below 50 indicates contraction. A result of 50 is neutral. The farther an indicator is above or below 50, the greater or smaller the rate of change.
Below is a graph showing the history of the Chicago Business Barometer. You will need to view the graph on our website to use its interactive features, you can do so by clicking here. If you need assistance logging into or navigating the website, please contact our office at 800-432-3475 or info@SteelMarketUpdate.com.

Latest in Economy