Steel Products Prices North America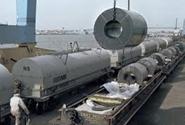 U.S. Steel Exports Slip in April After Last Month's High
Written by Brett Linton
June 14, 2017
---
April 2017 steel exports totaled 857,582 net tons (777,986 metric tons), down 9.6 percent over March, but up 7.9 percent from April 2016. Last month, we saw the highest export level since November 2014. The total April export figure is below the three-month moving average (average of February 2017, March 2017 and April 2017), but above the 12-month moving average (average of May 2016 through April 2017). Here is a breakdown of flat rolled and plate steel exports:
Cut plate exports decreased 28.9 percent from March to 80,907 tons and were down 13.7 percent compared to levels one year ago. April levels are on the low side compared to most of our cut plate data history. You can view all of our steel export data by visiting the Exports History page on the Steel Market Update website.
Exports of coiled plate were 51,381 tons in April, down 34.2 percent month over month, but up 44.3 percent year over year. Prior to this month, coiled plate exports were at a five-year high in March. April tonnage is still high in comparison to the last 2+ years.
Hot rolled steel exports decreased 3.3 percent month over month to 81,224 tons, but were up 47.2 percent from April 2016 levels. Prior to this year, you have to go back to October 2013 tonnage to have seen levels this high.
Exports of cold rolled products were 56,517 tons in April, up 6.8 percent from March, but down 5.1 percent over the same month last year.
Galvanized exports rose 7.9 percent month over month to 135,102 tons. Compared to one year ago, April levels were up 13.0 percent. This is the highest galvanized figure we have in our 6+ year history, where the closest we have come to this figure was in May 2013 with 128,395 tons.
Exports of all other metallic coated products came in at 19,692 tons, a 16.2 percent decrease from March and a 7.5 percent decrease compared to one year ago.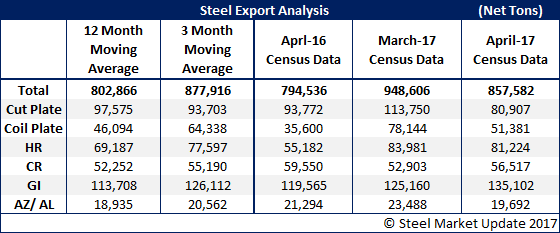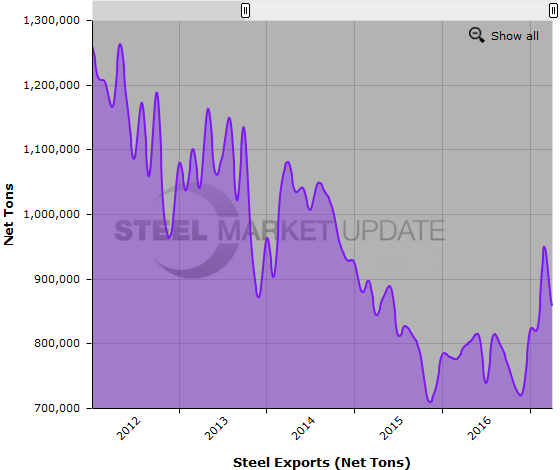 To see an interactive graphic of our Steel Exports history (which is what the graph above is a screen shot of), visit our website here. If you need any assistance logging in or navigating the site, contact us at info@SteelMarketUpdate.com or 800-432-3475.

Latest in Steel Products Prices North America