Steel Products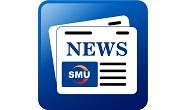 Happy Birthday to Steel Market Update
Written by John Packard
August 1, 2017
---
Written by: John Packard, Founder, Steel Market Update
Steel Market Update was incorporated and began selling subscriptions (memberships) of just our steel newsletter during August 2008. Today, we are celebrating our ninth birthday. I want to take a moment to thank our members and those who participate in our conference and workshops. I want to thank those of you who read our newsletters, blog posts, social media posts and especially those who speak highly of SMU to your customers, suppliers and friends in the industry. We have been blessed over the last nine years and we are looking forward to having many more celebrations in the years to come.
Steel Market Update began with a mission to provide quality steel market intelligence to those who were buying and selling steel. I felt at the time (and still do) that the market craved an "insider's" view of what was happening to prices, momentum, supply and demand, inventories, trade (foreign steel) and many other issues affecting the industry.
I also have always been interested in making sure buyers and sellers of steel were receiving information about the process of buying and selling steel from someone with experience on the subject. Early on we started writing articles on: The Truth About Selling Steel and Steel Buyers Basics. Recently, we added a new category called: Ethics and Your Business.
Steel Market Update began as literally a mom and pop operation. I wrote all of the articles, handled sales, marketing, publication and new product development and Diana managed our books. Even with the collapse of the industry in September 2008, we had just enough customers to keep us afloat and, as the market improved, we added new members and eventually people to assist me. Brett Linton was our very first hire and he continues to be one of our key performers to this day.
Below are examples of what our websites have looked like during our first nine years.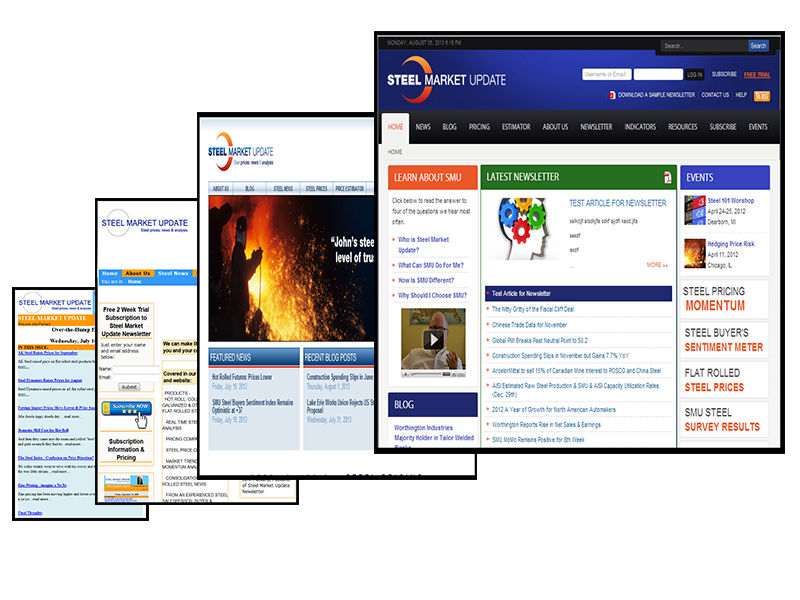 Here's a timeline of how we have grown and added new products over the years:
August 2008 – Steel Market Update Incorporated. First Newsletter Subscription Sold.
October 2008 – SMU Steel Buyers Sentiment Index added.
January 2009 – SMU Hot Rolled, Cold Rolled, Galvanized and Galvalume Indices added.
December 2009 – SMU Survey Began
October 2010 – Viva Las Vegas – First SMU Steel Summit Conference
December 2010 – Ferrous Scrap Indices Added
December 2010 – 2nd Website Comes Up
April 2011 – First SMU Steel 101 Workshop
October 2011 – 2nd SMU Steel Summit Conference in Atlanta
March 2012 – Purchased Assets of Steel Reality
September 2012 – Began Construction of 3rd Website and Redesign of Newsletter
October 2012 – 3rd SMU Steel Summit Conference in Chicago
January 2013 – Expanded Analysis and Forecasting Services
June 2013 – Expanded Newsletters to Include Monthly and Premium Levels
September 2013 – Brought Up New Website and Newsletter Design
January 2014 – Added Managing Price Risk Workshop to Training Programs
December 2014 – First Custom Training Program
September 2015 – 4th SMU Steel Summit Conference in Atlanta
August 2016 – 5th SMU Steel Summit Conference in Atlanta
January 2017 – Began Indexing Plate
May 2017 – Conducted 22nd Steel 101 Workshop
The Steel Market Update team has managed to grow the company without a salesperson on staff. It is the support of our members and loyal readers that keeps people coming to our website and registering for our workshops, conference and our newsletters. Thank you again for your support. The Steel Market Update Update team:
John Packard, President, CEO and Publisher
Diana Packard, CFO
Brett Linton, Information Specialist/Analyst
Tim Triplett, Executive Editor
Sandy Williams, Editor and Journalist
Alison Lalonde, Accounting
Peter Wright, Analyst, Steel 101 Instructor, Metallurgist, Marketing Expert
Ronald "Steve" Murphy, Analyst, Steel 101 Instructor, Metallurgist
John Eckstein, Steel 101 Instructor, Metallurgist
Steve Painter, Steel 101 instructor
Mario Briccetti, Steel 101 instructor

Latest in Steel Products