SMU Data and Models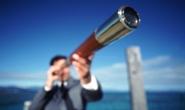 Storms Have Not Affected Lead Times…Yet
Written by Tim Triplett
September 10, 2017
---
Flat rolled lead times, the amount of time it takes for the steel mills to produce an order if placed today, have shortened ever so slightly in the past month, according to data collected by Steel Market Update (SMU) from manufacturers and steel service centers earlier this week. Viewed over a longer time frame, lead times have remained essentially flat for the past few months.
Steel mill lead times are one of the keys used when determining whether flat rolled steel prices should/will gain strength or weaken over time. AK Steel announced a new $30 per ton price increase last week, but so far the other mills have not followed. The flat lead times we are measuring may be one of the reasons why other mills are being cautious before making their announcements.
Mill lead times could certainly change in the coming few months, but will more likely lengthen as the market responds to increased steel demand in the wake of two hurricanes and possible trade action in Washington. Steel Market Update will report on the first signs that storm recovery is affecting lead times.
On Monday, SMU sent out invitations to more than 650 steel executives to participate in our early September flat rolled steel market trends analysis. We asked the manufacturing companies and steel service centers what they were seeing for lead times on hot rolled, cold rolled, galvanized and Galvalume steels. We understand lead times at individual mills can vary greatly. Our goal is to look at the trend by averaging the responses.
Hot rolled lead times have averaged a bit more than four weeks for many months. This week, the SMU HRC average lead time was 4.07 weeks, down from 4.46 weeks a month ago. One year ago, HRC lead times were somewhat shorter, averaging 3.19 weeks.
Cold rolled lead times are now averaging right around six weeks (6.19 weeks), down slightly from 6.25 weeks a month ago. One year ago, CRC lead times were also at six weeks (5.87 weeks).
Galvanized lead times, currently averaging 6.43 weeks, were at 6.54 weeks a month ago. Galv lead times have stayed steady at around six and a half weeks since mid-May. Last year at this time, GI lead times were at 6.19 weeks.
Galvalume lead times in early September averaged 6.55 weeks, down from 6.75 weeks in early August.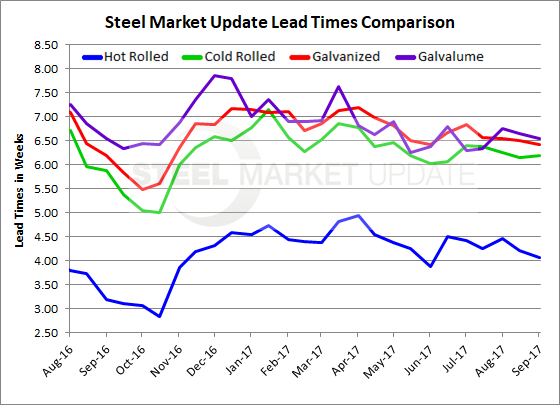 Note: These lead times are based on the average from manufacturers and steel service centers who participated in this week's SMU market trends analysis. Our lead times do not predict what any individual may get from any specific mill supplier. Look to your mill rep for actual lead times. Our lead times are meant only to identify trends and changes in the marketplace. To see an interactive history of our Steel Mill Lead Times data, visit our website here.

Latest in SMU Data and Models