Steel Products Prices North America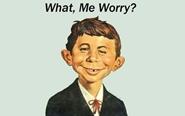 Will Flat Rolled Return to "Normal" Seasonal Price Change?
Written by John Packard
October 15, 2017
---
One of the questions we get regularly is what are steel buyers and sellers of steel saying about their business (demand) and inventory levels? Over this past week, Steel Market Update spoke with quite a few companies and asked them how they were seeing business and if their company was building flat rolled or steel plate inventories. A number believe flat rolled steel prices will return to their normal seasonal swoon in early fourth quarter, only to rebound when steel mill lead times reach into the New Year.
As we mentioned in an article published on Thursday, service center inventories rose as of the end of September. SMU Service Center Inventories now average 2.90 months of supply, up from the 2.70 measured at the end of August. (Note: This is a new index where we currently survey 40 service centers at the end of each month in order to get a better feel for inventory levels of flat rolled, as well as the buying trend moving forward.)
We only found a couple of service centers whose business had surprised to the upside, thus creating a tight inventory situation at their company. A service center located in the Upper West reported a surge of orders due to the first snow hitting the ground. They reported, "Huge month, sales up close to 40 percent…. We have had our first snow already and people are freaking out about getting their building dried in before the snow sets in for good." They told us that their customers chewed through so much material that the business activity lowered their inventory levels by 1.2 months of supply.
We heard from another company located in the South Central portion of the United States identifying their business as being "balanced." They told us, "We see a balanced demand from our customers for the month of October. Expectations are November will remain balanced with a weakening in December."
Another service center reported their business as balanced, as well. "October's looking better than September (which was lousy for us), and I'm hearing basically a  balanced outlook through year-end. Negative price info on scrap and now steel could cause a malaise from the more astute buyers in 4Q, but it also seems like most in the market expect a 'down-up' maneuver in 4Q like we witnessed last year."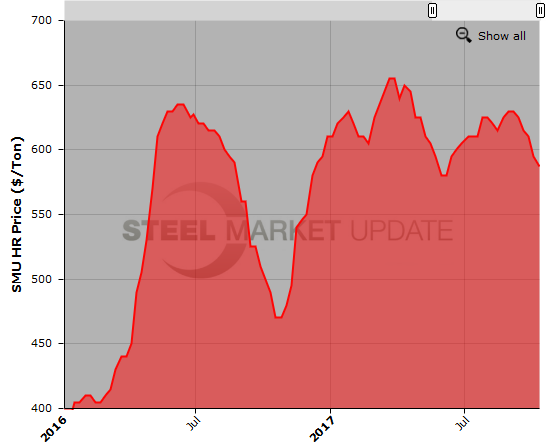 As you can see from the pricing graphic above, SMU's hot rolled index bottomed at $470 per ton ($23.50/cwt) on Oct. 25, 2016, and then marched straight to $630 per ton ($31.50/cwt) in late January 2017. The service center above mentioned that many in the industry believe the market will return to a more normal upswing in pricing once the mills fill their order books for calendar year 2017. With the number of planned outages and the lack of foreign competition (for new orders), the expectation is for the return to "normal."
However, based on the inventory levels we are gathering from the service centers participating in our inventory analysis, we expect the return to normal may have to wait for a month or possibly longer as the distributors draw down their inventories. As prices weaken, distributors want to dump higher priced steel and then replace it with cheaper pricing. Here is what that looks like from a historical perspective.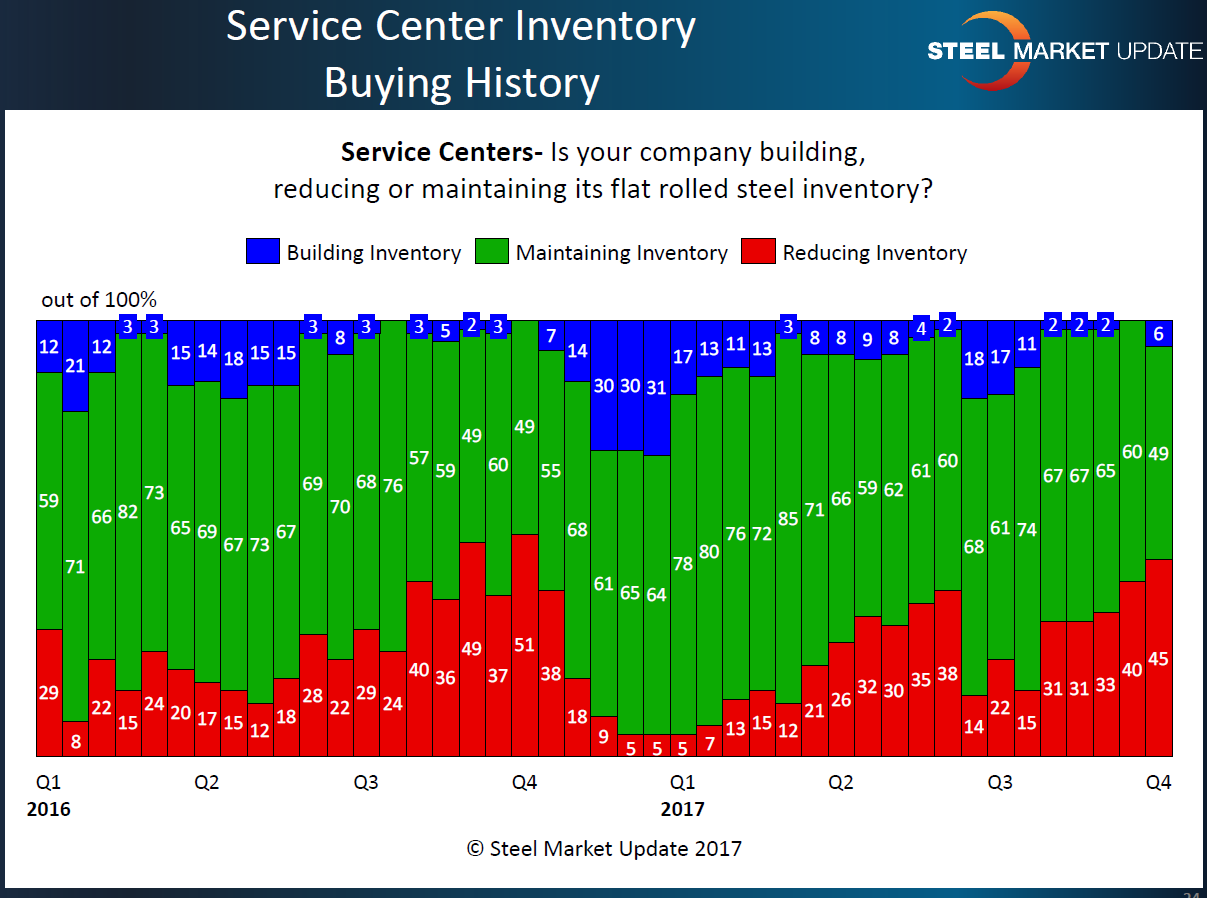 Steel prices continue to weaken, at least that is what we are being told by most (not all) of the flat rolled and plate steel buyers we spoke with last week. "Mill interactions are a mixed bag. [There are] definitely some production holes if you know where to look, but you have to be very careful on the zinc extras," is what we heard from a service center in the Southeast.
From the Midwest, we heard a slightly different perspective. "We have seen a slight weakening on spot activity and releases lately, but conversations suggest demand is still steady and should pick up until we hit the holidays."
A distributor headquartered in the Upper Midwest said October was in line with September. "More or less balanced with September. Very difficult for us to project November at this point. I would need another week or two, but it looks like December will be slow.  A few of our customer are taking extended outages in the second half of the month. On the flip side, the holidays shouldn't be too disruptive as they fall on Mondays and won't chop up the week. That should help to a degree."
Steel Market Update will begin a new flat rolled steel market trends analysis on Monday morning. We anticipate by later this week we will have a clearer picture on pricing and the trend to "dump" or "build" inventories, which impacts the ability of the domestic steel mills to go to market with higher prices. We will have more about our survey once it has been concluded on Thursday of this week.
Plate Suppliers and Customers
We also looked at plate and plate products this past week and did get some interesting comments. Most of the comments on plate have been pessimistic regarding the plate mills' ability to halt the price slide we have seen over the past couple of months.
One plate service center was pessimistic about what they were seeing from their plate customers. "[They're] reporting slowing in most light and heavy plate industries. My team is reporting layoffs at more than 10 percent of our customer base. No health care reform, no tax reform and no infrastructure plan. The Trump bump is long gone and recession is nearing. The hurricanes are playing a larger role in market weakness."
Another plate supplier confirmed what was stated above when they reported, "We think October demand will be a little less on a daily basis than September, and we expect that trend to continue as we go through November and December."
Not all plate suppliers are negative on the market. We found a service center in the Southeast who told SMU they were surprised the plate mills continue to cut prices. He then added, "Discrete plate at $33 to $33.50 delivered from domestics. Why do they keep cutting the price?!?!?!?! Our shipments have been great since July and are up again in October. We didn't buy any import, but a lot did and are still working through it. That's probably the reason the mills aren't feeling any demand, although true demand hasn't actually changed."
An OEM who buys both hot rolled coil and plate told us that they didn't really see a lot of room or reason for the domestic mills to lower prices. "Is there room for prices to go lower with electrode prices and mill outages? On top [of that], none of the import offers we have seen are attractive."
Many in the industry believe it is the lack of attractive import offers that will help rescue the steel mills and stop prices from slipping too far.
From SMU's perch, we are watching, as we always do, steel mill lead times, mill negotiations, Steel Buyers Sentiment Index, Service Center Spot Pricing (and if the distributors are close to capitulation) and Service Center Inventories. All of these products are available to our Premium level subscribers/members who have access to the analysis we conduct twice per month and are able to review historical data with the new data we will collect this week.
If you would like more information about how to become a Premium member, please contact us at info@SteelMarketUpdate.com.

Latest in Steel Products Prices North America