SMU Data and Models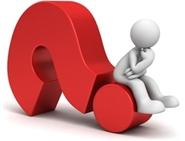 Service Center Support for Price Hikes Raises Questions
Written by John Packard
November 5, 2017
---
Twice per month, Steel Market Update (SMU) conducts an analysis of the flat rolled steel markets and trends associated with those who buy and sell hot rolled, cold rolled, galvanized, Galvalume and steel plate. One of the key areas we review is how steel service centers are handling spot pricing to their end user customers. It is our belief there is a clear correlation between service center spot pricing and the success or failure of the domestic steel mills' ability to collect price increases. What we found during last week's queries was a change in direction, but not a wholesale acceptance of higher spot steel pricing out of the service centers.
This can best be seen in the responses of the manufacturing segment of our survey. As early as last week, 41 percent of the manufacturing companies reported their service center suppliers as continuing to lower spot prices in comparison to what they saw just two weeks earlier. This represents a 21 percent drop in the percentage of end users reporting this way, as we had 62 percent reporting distributors as lowering spot prices in our mid-October analysis. Eighteen percent reported service centers as raising prices, where in mid-October none of the manufacturers were reporting that way.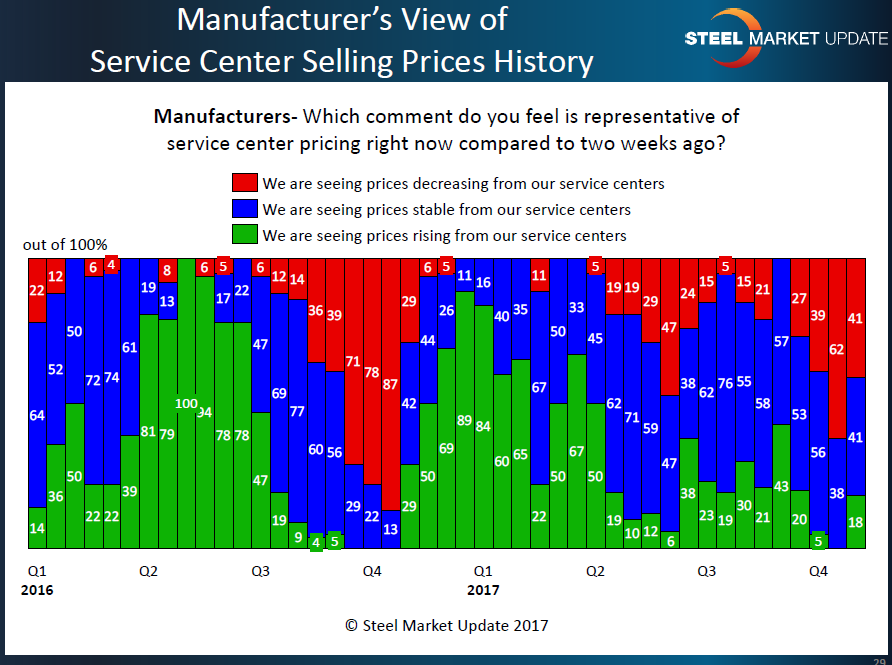 Service centers did not disagree with the manufacturers' assessment of how they were handling spot prices in mid-October. A large percentage of distributors reported their company as lowering spot prices (48 percent), and no service center reported their company as raising prices.
The direction change collected last week is much more pronounced than what the manufacturers reported, with 33 percent of the service center respondents reporting their company as asking for higher spot prices and only 6 percent reported their company as lowering prices.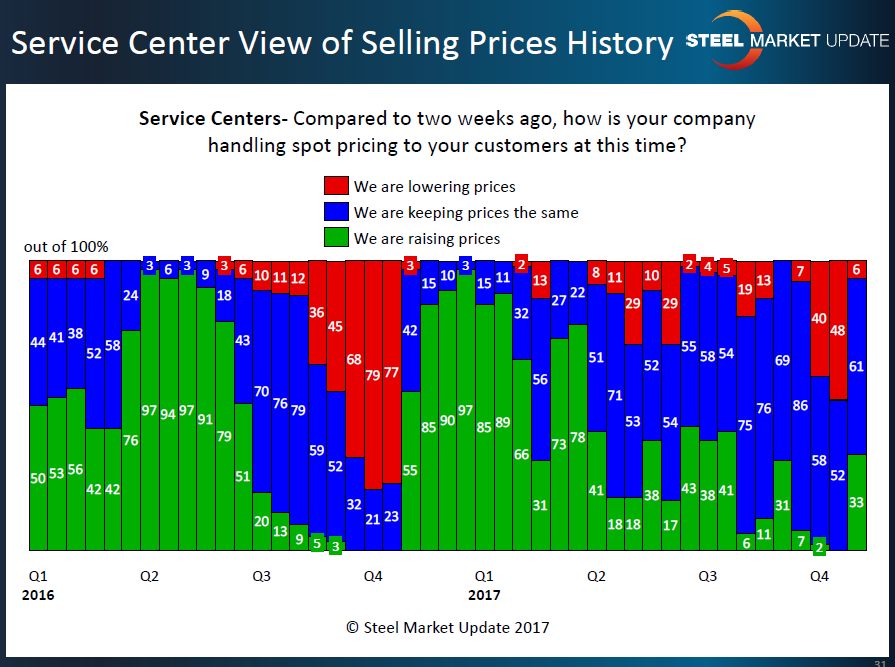 That information on its own is interesting and seems to be supportive of the domestic steel mills' move to raise flat rolled steel prices earlier in October. But when looking at the price support from a historical perspective, the support appears to be tepid at best and not supportive of a longer-term price push.
In the graphic below, we show responses by the service centers on the question as to how their company is handling spot pricing to their customers going back to early January 2016. As you can see, there was a strong price move by the domestic mills during the first two quarters 2016. The strongest support by the distributors was during the second quarter 2016 when up to 97 percent of the service centers reported their company as hiking spot pricing on flat rolled.
What happened to benchmark hot rolled prices during the first six months 2016? HRC prices began the year at $380 per ton and went on a tear, peaking at $635 per ton in early to mid-June.
In third-quarter 2016, prices dropped to $470 per ton before bouncing and entering 2017 at $610 per ton. Prices then peaked at $655 per ton in late March. You can clearly see the service centers dropped their support for higher spot pricing, and benchmark HRC prices hit $580 per ton twice since then. First, in early June and then again in late October. Since May 2017, HRC pricing out of the steel mills has been in a relatively narrow $40 per ton trading range of $580-$620 per ton. This despite AK Steel announcing $115 per ton in price increases during this time period (June 6, 2017, +$30; July 21, 2017, +$25; Aug. 16, 2017, +$30; and Sept. 6, 2017, +$30).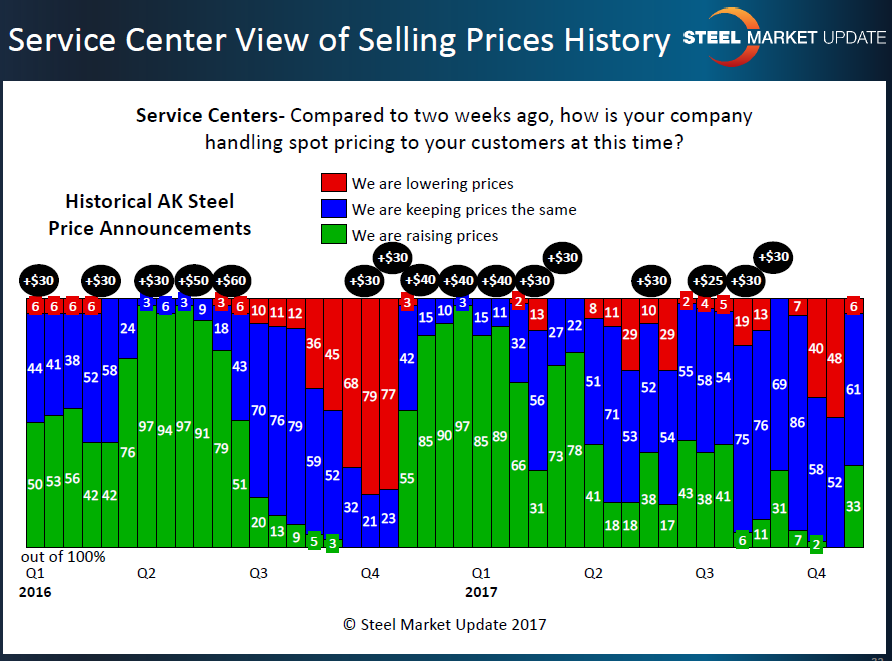 So, from Steel Market Update's perspective, based on spot pricing offers out of the flat rolled steel distributors, there is no clear-cut definitive support base yet out of the service centers to support the price increase announcements. The key word here is "yet," as the expectation is for the domestic steel mills to push prices higher again prior to Thanksgiving (see article in tonight's newsletter entitled: SMU Market Trends: Another Price Hike by Thanksgiving?). This tends to happen when the mill lead-times begin to slip into the next calendar year.
On Friday, California Steel Industries (CSI) advised their customers that their mill was sold out for calendar year 2017…
SMU Note: Our Premium level members have had access to our survey results since Friday afternoon. If you would like to learn more about becoming a Premium level subscriber, please contact us at info@SteelMarketUpdate.com. 

Latest in SMU Data and Models