Steel Mills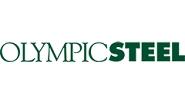 Olympic Steel: Lean and Prospering
Written by Sandy Williams
November 9, 2017
---
Olympic Steel posted significantly improved results for third-quarter 2017. Demand is strong across all three business segments at Olympic, but is expected to soften due to seasonality and the holidays. "Looking ahead, we are encouraged by both the positive demand trends our customers are projecting for 2018 and by the market's outlook for improved metal pricing," said Chairman and CEO Michael Siegal during the Q3 earnings conference call on Wednesday.
"The manufacturers and fabricators we serve in the heavy machinery and industrial equipment sectors echo this positive outlook," said Siegal. "It is also noteworthy that all of this is happening in absence of any clarity or certainty around the potential tax reform legislation or concrete plans for future infrastructure spending."
"Anything constructive coming out of Washington would stimulate further demand and, as we support fair trade, we expect the 232 issue to be resolved sometime next year favorably," he added.
Olympic's net sales increased 24 percent from last year's third quarter at $331.4 million due to higher shipping volume and higher average selling prices. Net income for the third quarter was $2.3 million.
Average selling price for carbon flat products increased to $778 per ton from $698 per ton in Q3 2016. Net sales for the segment jumped 27 percent year-over-year to $215.8 million on 277,426 tons sold.
Olympic President David Wolfort noted that plate sales to service centers have increased. "Our business to business with other service centers has grown, up I think from 7 percent to 10 percent this year," said Wolfort, "It's a combination of having access to material and our willingness to respond to our smaller strategic partners in the service center business that are allowing us to penetrate deeper into a marketplace."
Specialty flat metals sales totaled $57.5 million on 23,253 tons at an average selling price per ton of $2,275. Tubular and pipe sales jumped to $58 million from $49 million year-over-year.
Improving global economics benefited customers that export machinery and industrial equipment. Demand for metals is higher in China and the Eurozone due to growing industrial production. Demand has lifted prices from a low point in September. The weaker U.S. dollar has also made U.S. manufactured products more attractive to foreign buyers, said Wolfort.
Olympic experienced some minor pressure on operating costs as transportation costs increased due to demand for trucks to aid in hurricane relief.
Olympic Steel is expanding two of its facilities to meet increased demand. The Schaumburg, Ill., facility is being expanded by 42,000 square feet to house a new cut-to-length line for stainless steel and aluminum products. Schaumburg's line for cold rolled products will be maintained during the installation period.
At the Streetsboro, Ohio, facility, the carbon slitter will be refurbished and repurposed for stainless processing and will come on line in mid-2018.
Olympic is keeping inventory lean in all three of its segments after it rose higher than preferred in September. During the call, Siegal was asked if customers are trying to build inventories before prices rise again or if they are keeping them lean.
"I think very little has changed in that regard," said Siegal. "The industry continues to be plagued with concern. So at this time last year, as we talked on the national Election Day a year ago, there was dramatic concern and people were winding inventories down. That changed immediately the following day. Whether you characterize it as the Trump Pump or whatever, the reality is that the manufacturing businesses we supply really got significantly stronger and we held market position. We have positioned ourselves post-Great Recession to not only absorb additional business that we recruited over the last seven years, but to welcome back our old accounts to their fullest extent in these years."
He added, "From our competitive perspective, we do see a reluctance to hold inventory, so we are prospering as the market continues to move forward."

Latest in Steel Mills