Steel Products Prices North America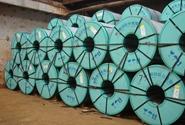 November Imports Trending Lower by 17%
Written by John Packard
November 16, 2017
---
Domestic steelmakers got a taste of good news this week when the U.S. Department of Commerce released foreign steel import license data for the first 14 days of November. Steel Market Update sees the trend for November imports to be 2.6 million net tons or lower. If correct, this would be the first month during the 2017 calendar year for imports to come in at 2.6 million net tons or less.
With October imports looking to be at 3.1 million net tons (we do not have Preliminary Census Data yet), this puts November as trending 17 percent lower than the prior month, as well as the 12-month moving average (12MMA). The steel market has been expecting this move for some time, but this is the first month where the data is supporting expectations.
Finished steel imports are trending below 2.0 million tons, or more than 500,000 net tons less than the month of October.
Semi-finished steels, most of which are slabs used by the domestic steel mills, continue to trend toward 620,000 net tons.
OCTG (oil country tubular goods) are down, hot rolled is down and trending toward only 126,000 net tons, and cold rolled is down to 130,000 net tons.
Coated steels are resisting dropping by the same amounts as the other flat rolled products. Galvanized is trending toward 256,000 net tons, which if correct would be 40,000 to 45,000 net tons below its three-month and 12-month moving averages.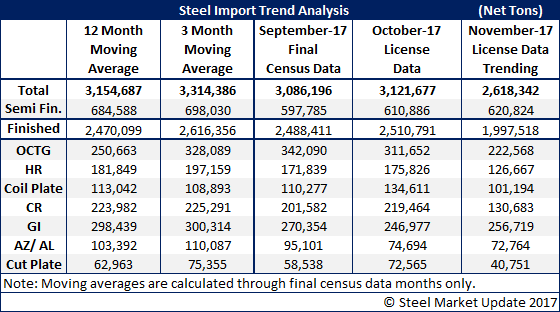 Latest in Steel Products Prices North America