Shipping and Logistics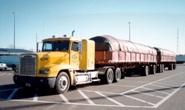 Truck Fleets Face ELD Deadline on Monday
Written by Tim Triplett
December 14, 2017
---
In theory, the nation's highways should be safer come Monday. Dec. 18 is the deadline for trucking companies to equip their vehicles with electronic logging devices. The ELDs are meant to reduce fatigue-related accidents by preventing drivers from fudging their time behind the wheel in violation of hours-of-service restrictions. As a practical matter, there will still be many trucks whose owners have not yet complied. Requiring the devices will also worsen the shortage of available drivers, however, and could lead to more inexperienced new-hires on the road.
Federal data shows that improving compliance with hours-of-service rules improves highway safety. Use of ELDs has been shown to reduce hours-of-service violations by 50 percent, compared to users of paper logs, in turn reducing the truck crash rate by 11.7 percent, contends the American Trucking Associations, the trucking industry trade group. "ATA is a strong defender of the electronic logging device final rule," said Collin Stewart, president of Stewart Transport, Inc., on behalf of the ATA. "As a committed advocate for the safe and efficient transportation of freight over America's highways, ATA believes ELDs will improve safety by ensuring strict compliance with hours-of-service requirements."
It's highly unlikely all carriers will manage to comply by next week's deadline. By some estimates, up to 30 percent of vehicles may not be in compliance. Equipping vehicles with the ELDs takes time and can cost up to $1,000 per truck. Some carriers remain strongly opposed to the government interference in their business and may opt to take their chances with enforcement. Sympathetic regulators have told trucking companies they can expect "soft enforcement" of the new requirements until around April.
Unsympathetic is the ATA toward opponents of the ELD rule who claim the device will make them less safe by eliminating the flexibility they have in using paper logs. "It is important to point out that nothing in the ELD rule changes the current hours-of-service limits," Stewart said. "Drivers who claim that ELDs remove their discretion in deciding when to take a break or when to drive either don't understand how the current rules are structured or are willfully ignoring them."
Larry Hall, presid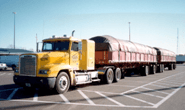 ent of HS Express LLC, a small 80-truck carrier owned by PS Logistics and Heidtman Steel, believes most companies have made a good faith effort to install the ELDs. The seasonal slowdown in trucking has helped, he noted. "Across the board we are seeing freight levels soften. So, it's a good time for it to happen."
Most trucking companies will need to hire more drivers, if they can find them, because the drivers they have will be spending less time behind the wheel. To offset the increased labor cost, they will have to raise rates. Customers have been understanding, said Hall. "Rate increases have not been difficult to get. Some folks are stepping up to the table and helping us out." Trucking rates for steel already increased by 5-7 percent in the last quarter, "and we think it will take 15-18 percent more to make us whole next year."
Trucking capacity was extremely tight in August and September, made worse by the recovery effort from the storms in the South. Hall called it "a wakeup call" for shippers, who can expect competition for trucks to be similarly challenging in what is shaping up as a strong 2018 for the steel business. "Between building materials and pipe and tube, we could be in a really hot market. We will see a reckoning in mid to late first quarter," he predicted, as the driver shortage intensifies.
Under the complicated hours-of-service rules, once drivers begin working they have 14 hours to complete their driving. Referred to as the "14-hour clock," it cannot be paused once a driver begins work for the day. In addition to a limited number of hours spent actively driving, this on-duty time includes time spent waiting to be loaded at the shipper, stuck in traffic congestion or unloading at the customer. Because circumstances like these can limit time spent driving to the destination, some drivers use the "flexibility of paper logs" to inaccurately record working and driving time so they can stay on the road longer than allowed. The advent of electronic logs will make it more difficult for drivers to game the system in this way, effectively creating a need for many more drivers.
ATA estimates the shortage of drivers is currently about 50,000, and it could grow to more than 174,000 by 2026, factoring in the demographics of the aging driver population, lifestyle issues, and the difficulty in attracting young people to a career in trucking.
Driver turnover is a common and growing problem for trucking companies. The driver turnover rate at large truckload fleets rose five percentage points in the third quarter to an annualized rate of 95 percent, reports ATA Chief Economist Bob Costello. "Since bottoming out at the end of 2016, the turnover rate at larger fleets has steadily risen – a function of an improving economy, rising demand for freight transportation and fierce competition for drivers. The tightening of the driver market has raised fears about the driver shortage, which will hit an all-time high this year."
Competition for safe, experienced drivers is pushing wages higher as rivals strive to attract the best talent, Costello added. "However, unless steps are taken to make it easier for individuals to pursue careers in trucking, demand for drivers will continue to outstrip supply – eventually even leading to supply chain disruptions."

Latest in Shipping and Logistics