Steel Mills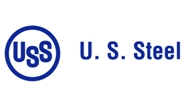 U.S Steel Claims Asset Revitalization's Improving Results
Written by Sandy Williams
April 28, 2018
---
U.S. Steel Corp. says its asset revitalization program is working as evidenced by net sales of $3.14 billion and net earnings of $18 million for the first quarter of 2018. Earnings before interest and income tax for the flat-rolled segment were $33 million in Q1 compared to a loss of $88 million in first-quarter 2017.
"We are beginning the second year of our asset revitalization program, and we are already seeing benefits from the investments in our assets," said CEO David Burritt. "It is prudent for us to anticipate the possibility of continued operational volatility for those assets yet to be revitalized."
The asset revitalization program targets investment in existing assets that can deliver commercial benefits through operational improvements. Most of the projects are smaller and, therefore, easier to execute, allowing U.S. Steel flexibility to upgrade operations without disrupting delivery to customers.
The $2 billion program, extending from 2017 through 2020, targets improvements in operating efficiency, unplanned downtime, reliability, quality and costs. Revitalization is expected to increase raw steel production capability by 1 million tons and a return rate on investment of 15-20 percent by 2020.
"We will have issues and do have issues." said Burritt. "But when we put in place the asset revitalization program, I frankly was amazed and delighted because we don't just get them back to their original shape, we get them in the best shape ever. We've had a number of success stories."
In first quarter, U.S. Steel completed at Gary Works the replacement of the blast furnace recycle cooling tower, replacement of the displacement instrumentation and enhancements to the tin plating operation. Desulfurization improvements were completed at the Great Lakes Works basic oxygen furnace.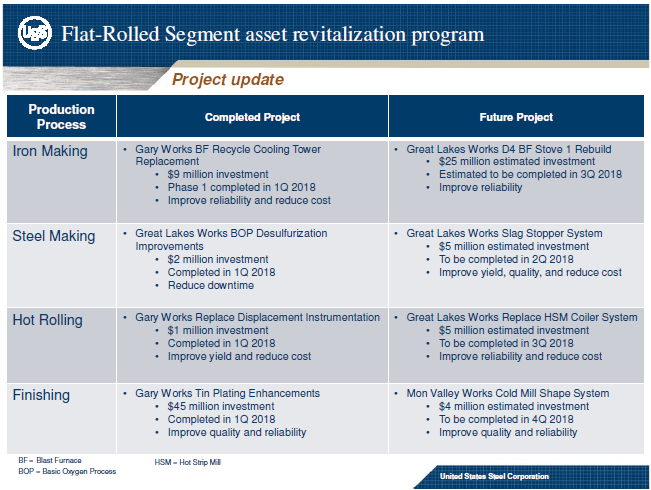 During the first quarter, an operational issue at the basic oxygen plants steel shop at Great Lakes Works caused damage to the vessel linings. Temporary repairs were completed and production has resumed. A 52-day blast furnace outage is planned for Great Lakes during the third quarter to make additional repairs to the vessel. The issues at Great Lakes are expected to have an unfavorable EBITDA impact of approximately $30 million on second-quarter results.
The restart of steelmaking operations at Granite City Works is progressing well, said Burritt. Once the B furnace is restarted, U.S. Steel expects incremental shipments of approximately 100,000 tons per month. Any restart of the second blast furnace at Granite City will depend on demand, said Burritt.
"We'll see how the 232 plays out, we'll see how our customers are responding—if they want more volume, we'll give it to them," he added. "We've got the capability to ramp this up and do it quickly. We're impressed with the speed by which we're moving Granite City ahead."
Burritt said the following on Section 232 during the earnings call: "I'd just say I'm optimistic that the president will continue his strong stance on protecting the national security of the United States. Having spent time in the White House and been with him face to face, we know how strongly he feels about this issue, and I'm quite confident we will get to the right conclusion. Obviously, we have to get that utilization up to a minimum 80 percent. And the president knows that if you use exclusions, and it could be a lot of exclusions, that could be problematic. That's why we have to have a different disciplined approach to remain at that 80 percent utilization."
Flat rolled shipments from the U.S. operations totaled 2.5 million tons at an average realized price of $740 per ton in Q1, compared to $719 per ton in Q1 2017. 
The capacity utilization rate for U.S. Steel's flat rolled operations was 66 percent in the first quarter based on an annual raw steel production capability of 17.0 million tons. The company's Europe utilization rate was 105 percent based on 5 million net tons of annual production capability.
U.S. Steel anticipates second-quarter 2018 adjusted EBITDA will be approximately $400 million, and full-year 2018 adjusted EBITDA will be approximately $1.7 billion to $1.8 billion.

Latest in Steel Mills