Economy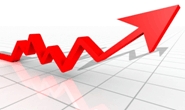 Chicago Business Barometer Shows Robust Demand
Written by Sandy Williams
July 31, 2018
---
The Chicago Business Barometer hit a six-month high in June, gaining 1.4 points to post at 65.5. New orders and production also reached six-month highs, increasing 8.0 percent and 10.6 percent, respectively.
Increasing demand led to a third month of growth for order backlogs. The indicator posted a nine-month high with firms reporting unfinished work from June orders, as well as production inefficiencies and employee shortages. Firms increased personnel for the third consecutive month, but reported difficulty finding qualified employees.
Lead times for raw materials eased slightly but were still significantly elevated, impacting production. Inventories of raw materials were at an 18-month low.
Escalating input prices were reported and were attributed to tariffs on imported goods. The prices paid index increased to a 10-year high in July.
"Input prices continue to be a thorn in the side of businesses, however, with the Prices Paid indicator at the highest in a decade and continuing to signal pipeline inflation," said Jamie Satchi, economist at MNI Indicators.
Looking forward to the third quarter, more than half of firms surveyed anticipate stronger demand than in the second quarter, 25 percent expected no change and nearly 14 percent expected a drop in demand.
Below is a graph showing the history of the Chicago Business Barometer. You will need to view the graph on our website to use its interactive features; you can do so by clicking here. If you need assistance logging in to or navigating the website, please contact Brett at 706-216-2140 or Brett@SteelMarketUpdate.com.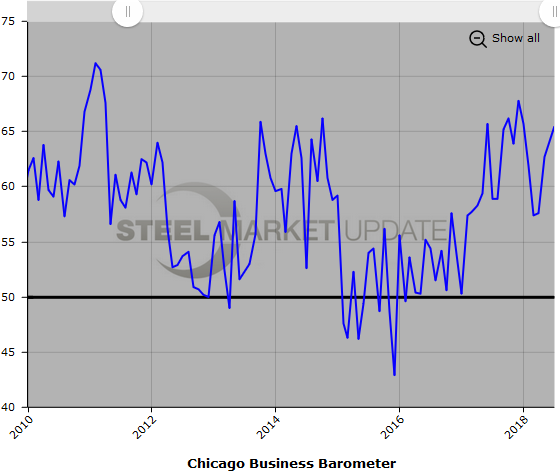 Latest in Economy