Trade Cases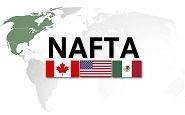 NAFTA Negotiators Talk Autos and Sunset Clause
Written by Sandy Williams
August 8, 2018
---
NAFTA talks are continuing this week with the contentious sunset clause under discussion. The topic has not been revisited in recent discussions as negotiators from the U.S. and Mexico tried to close less volatile chapters of the agreement.   
The sunset clause that would put a termination date on the agreement has been rebuffed by both Canada and Mexico who say it would discourage business investment. 
"There have not been any comments, any discussions on sunset since the very beginning of these meetings last week," said Mexican Economy Minister Ildefonso Guajardo.
Jesús Seade, the chief negotiator for Mexican President-elect Andrés Manuel López Obrador, said there has been no progress on the issue.
"Sunset clause has not been discussed," said Seade. "So, they have their position, which is very clear, and we have said that's not something we can work with."
Canada is expected to rejoin the negotiations to discuss trilateral issues that could not be resolved during the bilateral talks between Mexico and the U.S. The sunset clause is expected to be the "make or break" issue for a renegotiated agreement.
The U.S. and Mexico have been haggling over auto rules of origin for the past two weeks. According to Mexican newspaper El Economista, Mexico is willing to increase the North American content for cars to 75 percent from the current 62.5 percent. The U.S. has requested 85 percent North American content. Low wages in the Mexican auto sector have also been on the table, and reportedly Guajardo said Mexico will accept a deal that requires 40 percent of Mexican produced NAFTA vehicles to be made in factories that pay $16 per hour or more. According to El Economista, the terms are acceptable to Mexico in return for a five-year transition period.
Canada has not participated in the most recent discussions, allowing the U.S. and Mexico to work out some of the details on their own, but is expected to rejoin the conversation as negotiators delve into more complicated issues.
"We have been in very close touch with our Mexican and American counterparts since the Mexican election," Canadian Foreign Affairs Minister Chrystia Freeland told reports on Sunday. "Negotiations have been entering — as we had hoped and predicted — a more intensive phase. I'm very hopeful that we can make a lot of progress this summer, very much including rules of origin for the car sector. So, Canada is ready to be at the table at any time, and I think we're very hopeful and optimistic about getting a deal soon."
U.S. Trade Representative Robert Lighthizer wants to conclude the talks by the end of August, which will allow time for outgoing Mexican President  Enrique Pina Nieto to sign the agreement before leaving office.

Latest in Trade Cases