Steel Markets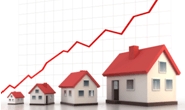 New Home Sales Rebound in August
Written by Sandy Williams
September 26, 2018
---
Sales of new homes increased last month despite affordability issues related to building costs. Sales of new single-family homes rose 3.5 percent in August compared to July and were 12.7 percent higher than in August 2017. The seasonally adjusted annual rate was estimated at 629,000.
Sales were strongest in the Northeast, soaring 47.8 percent from July, and were 9.1 percent higher in the West and 2.7 percent higher in the Midwest. Only the South posted declining sales for August, dipping 1.7 percent.
The median sales price in August was $320,200 and the average sales price $388,400.
At the end of August, an estimated 318,000 new homes were for sale representing a supply of 6.1 months at the current sales rate.
"New home sales ticked up in August due to positive demographics and a strong overall economy," said Randy Noel, chairman of the National Association of Home Builders. "However, housing affordability remains a serious concern and builders must manage supply-side costs and stiff regulatory hurdles to keep prices competitive."
NAHB Chief Economist Robert Dietz added that market volatility may occur as an aftereffect of Hurricane Florence. "Still, we expect the overall housing market to grow this year as demand continues to increase among millennials and other newcomers."
Mortgage rates are up 60 basis points so far in 2018 to an average of 4.65 percent for a 30-year fixed mortgage. On Wednesday, the Federal Reserve raised interest rates for a third time, and another hike is expected in December, potentially pushing mortgage rates up further.

Latest in Steel Markets