Economy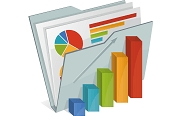 EUROFER: Steel Imports Growing Faster than Domestic Shipments
Written by Sandy Williams
October 25, 2018
---
Trade measures by the U.S. are causing concern for the European steel market, according to a new report by the European Union steel association EUROFER. Steel imports are growing faster than domestic shipments by EU mills, according to the Economic and Steel Market Outlook 2018-2019.
"Growth is stabilizing in EU steel markets, in line with expectations," said EUROFER Director General Axel Eggert. "However, the various challenges facing the sector will impact us in the coming months. Trade tensions could clearly upset the market's balance, as could slowing demand in other parts of the economy.''
Apparent steel consumption in the EU grew 4.4 percent year-over-year in the second quarter of 2018 on demand and stock building. Import market share rose from 23.2 percent in the first quarter to almost 25 percent in the second quarter, confirming concerns that steel exporters would divert volume to the EU ahead of safeguard measures. Steel consumption is forecast to rise 2.2 percent in 2018 and another 1.1. percent in 2019.

"EU steel market fundamentals are expected to remain supportive to a continued but moderate increase in apparent steel consumption," said EUROFER. "However, ongoing trade frictions with the U.S., and cooling global demand, suggest that external risks could continue to climb, which in turn would increase uncertainty and lead to weakening prospects for EU steel users.
"Moreover, other trade barriers which are being considered by the Trump administration, such as tariffs on EU automotive exports to the U.S., could lead to a further escalation of the trade dispute and have a damaging impact on steel demand."
Production increased in all the steel-using sectors during the second quarter except for the steel tube sector. Despite slowing economic growth in the region, the steel-using sector is forecast to grow by 3.5 percent in 2018 and 1.8 percent in 2019.
"However, the global economic context has become more uncertain due to rising protectionism and the risk of escalating trade tensions," said EUROFER. "This might have a negative impact on business confidence and investment."
GDP growth in the EU is expected to grow at a slower rate in 2018 and 2019. First-quarter to second-quarter growth increased 0.4 percent, and a third-quarter European Commission report shows industry confidence edging lower. GDP will be supported by domestic demand but dampened by net exports due to the slump in international trade, said EUROFER. Risk factors include rising protectionism, escalation of trade tensions, Brexit, and currency and stock market volatility in emerging economies.
EUROFER forecasts EU GDP growth of 2 percent in 2018 and of 1.8 percent in 2019.

Latest in Economy