Economy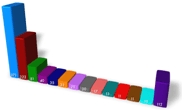 Strong Manufacturing Demand Hampered by Shortages and Higher Pricing
Written by Sandy Williams
December 4, 2018
---
Demand remains strong in the manufacturing sector, according to the latest Manufacturing ISM Report on Business. The PMI, from the Institute for Supply Management, increased 1.6 percentage points to 59.3 in November. A PMI reading above 50 indicates expansion.
New orders rose 4.7 points to 61.1, well above the 52.4 percent value that indicates growth. The production index increased 0.7 percentage points to 60.6 percent.
"Production expansion continued in November, and at higher expansion rates compared to October. Transportation variables, labor constraints and tariffs appear to be less impactful, but lead-time expansions persist," said ISM Chairman Timothy R. Fiore.
Supplier deliveries slowed for the 26th straight month, but at a softer rate in November. "Lead times continue to extend, supply chain labor issues continue to restrict performance, and transportation issues are continuing to limit supplier execution. However, levels are more manageable than in prior periods," said Fiore.
The marginal improvement in supplier deliveries helped raw material inventories expand to keep pace with production. Customer inventories were reported too low for almost all sectors, indicating a need for future production output.
Prices continued to increase but at a slower rate. Steel and aluminum prices were lower in November but firms that use steel in their products reported higher prices.
Backlogs continued to grow, indicating future production demand and positive conditions for first-quarter 2019.
The index for new export orders was unchanged from October at 52.2. Imports decreased 0.7 percentage points to 53.6, the lowest level since June 2017.
Shortages, pricing and tariffs were concerns of survey respondents:
• "Shortages, longer lead times and capacity constraints [particularly in the electronic components marketplace] and tariffs continue to strain the supply chain and disrupt normal business practices and activities." (Computer & Electronic Products)
• "Seeing a number [of] areas of slowdown that are concerning: truck market loosening [and] ISO depots full of empty containers, all signs of decreasing business activity." (Chemical Products)
• "Production continues at increased levels." (Transportation Equipment)
• "Trade tariffs and commodity increases have greatly affected our ability to remain competitive in the market." (Machinery)
• "Business [orders] steady. Many customers [moving] orders up due to price increases [from commodity costs and tariffs]." (Furniture & Related Products)
• "Business remains strong. Tariffs' impact is fully reflected in Q3 results, and initiatives are underway to move work out of China into other low-cost countries." (Miscellaneous Manufacturing)
• "A lack of experienced workers is having an impact on production, which impacts sourcing due to the skills gap in the manufacturing trades; particularly computer numeric controlled machinists, but also assemblers and welders. The challenge is meeting customer-delivery requirements for new and repaired equipment." (Fabricated Metal Products)
• "Steel tariffs continue to put upward pressure on downstream materials (even when sourcing steel domestically). Long-haul trucking market seems to be normalizing after the implementation of the electronic logging requirements. Oil volatility is also beginning to make its way through downstream materials." (Petroleum & Coal Products)
• "Continuing to increase imports in order to receive material in by the end of the year to avoid potential 25 percent tariffs." (Nonmetallic Mineral Products)

Latest in Economy