Economy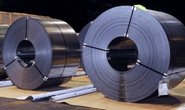 Secondary Steel: "Skittish" Market "Leaves Folks Guessing" About Q1
Written by Tim Triplett
December 18, 2018
---
Demand and pricing for nonprime or secondary steel products is a mixed bag, report Steel Market Update sources. Some segments of the secondary market are faring better than others.
Lisa Goldenberg, president of Delaware Steel Co. of Pennsylvania, Fort Washington, Pa., reports recent weakness in secondary sales. With domestic mills running at 80 percent of capacity, demand and pricing for prime and nonprime steel should be stronger. "We were doing great up until the last few weeks, but something changed. My forecast for the first quarter has been really strong, but now I wonder if I am doing the right thing." Turbulent times on Wall Street and in Washington have the market on edge, she noted. "It leaves folks guessing about the coming quarter even more than usual."
Mike Barnett, president of Grand Steel Products in Wixom, Mich., shared a similar observation. "It was pretty quiet last week. A lot of buyers are sitting on their hands. We are still moving steel, but not at the levels of earlier in the year."
Secondary steel is nonprime or excess material that did not meet the specifications for its original intended use. Mills offer the material at a discount to service centers, who look for buyers that can use it for alternative applications. Historically, prices for prime and secondary steel have moved in tandem, but the relationship between the two is not as simple as it used to be, say service center executives.
Prime steel prices have declined by nearly 20 percent from their mid-year highs. So have prices for some nonprime products, but certainly not all. Supplies of the most desirable secondary grades—those that are suitable for a wide range of alternative uses—are tight.
One executive from a midwestern service center reports that demand for secondary is good, but steel is in short supply, especially the high-demand items from 16-22 gauge in coated and cold roll. "We really don't see secondary steel in the marketplace like we used to. I have 16- and 18-gauge customers who struggle finding enough supply," he said.
With steel prices on the decline, some service centers are being cautious about their purchases. Especially those worried about the Trump administration removing the tariffs on steel imports from Canada and Mexico. Grand Steel is not among them. "We typically buy heavier in December, especially in this type of market with the prices going down, because the mills need to keep material moving off their floor. They sell it at an accelerated discount," Barnett said. The uncertainty in the market favors service centers with secondary to sell. "People often don't want to place big mill orders when the price is on the way down. They will look to someone like us to see if we have it, so they don't have to go to the mill and order it as prime."
Barnett's forecast for 2019 calls for steel prices to increase modestly in the first quarter, then level off and perhaps fall softly throughout the year. But his confidence is limited. "A lot of it has to do with what happens politically. Thank goodness the economy is expected to remain strong. We are predicting pretty reasonable demand again next year and that should get us through a lot of this volatility."
Greg Gross, president of Affinity Metals, Bedford Park, Ill., describes the steel market as "skittish" over the political debate on trade and tariffs and the gyrations in the stock market. The uncertainty plays into secondary's favor. "The more bad news people hear, the more afraid they are to make a move. They get paralyzed. Rather than place a big mill order, they place secondary orders to fill the holes in the short term," he said.
Prime steel prices have seen a steady decline in the past five months; not so for secondary. For popular grades such as 16-gauge G90 galvanized, the spread between prime and nonprime coils is minimal, Gross said. "Overall, secondary prices have leaned down a little, but any vanilla grade items that have multiple applications are in high demand and have actually maintained or increased their price." Buyers compete for the best coils on the mills' lists of secondary offerings. "Everything now is up for bid. All of us look at those lists and go after the same popular items, which forces up the bid prices."
But the secondary market has many layers and nuances, Gross added. The value of old coils that have grown rusty and stained in storage tends to move up and down with the price of scrap because they have limited uses and are often re-melted. Surprisingly, the same is true at the other end of the quality spectrum, where the most advanced high-strength steels have little demand in the secondary market and are often scrapped because they are too hard for most alternative uses. "Producers scrap a lot more steel than they used to, including AHSS. They don't want to just let it loose on the market, where it will drag down the value of other items," Gross explained.
Looking ahead to the first quarter, Gross forecasts a small uptick in demand for nonprime products. The current hesitancy by steel buyers could lead to a small bubble in spot purchases of the most popular secondary items in the first 60-90 days of 2019. "Come the new year, people who were reluctant to make any decisions will suddenly realize they need steel, and the competition for the desirable secondary items will heat up," he predicts.
Gross forecasts a reasonably good year for sales of prime and secondary steel in 2019, but there's pessimism in the air, which is self-defeating, he said. "Folks are saying automotive is going down, interest rates are going up. The tariffs are a problem. They have already decided that next year won't be so good. We are falling on our own sword. Taking the air out of our own balloon. This is an odd marketplace."

Latest in Economy