Economy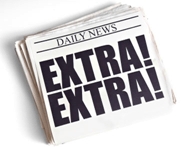 Paint Increase Surprises Prepaint Market
Written by Tim Triplett
January 16, 2019
---
Sherwin-Williams has announced a 6 percent hike in the cost of paint effective in March, upsetting customers in the prepainted steel and aluminum market.
"There is no justification for this paint increase," said one coil coater. "Oil prices are at their lowest level in years."
Sherwin-Williams raised prices twice last year when oil prices were much higher, but did not lower the cost of the petroleum-based products when oil prices plummeted. "Paint prices have never dropped, which is amazing," said one executive. Combined with last year's increases, the cost of paint has gone up by nearly 20 percent, he estimated. "When you look at all the inputs, this price increase makes no sense. In my opinion, the other paint companies will not follow, so the pressure will be on Sherwin-Williams. They will have to decide how committed they are to the increase."
"I can't imagine the paint increase being successful. We see market conditions [in prepaint] being really tough right now with prices continuing to fall," added a service center executive.
The prepaint market is extremely competitive, with excess coil coating capacity domestically and imports still arriving from Mexico and Asia despite the U.S. tariffs. On top of that, demand in construction and other key markets showed signs of slowing in fourth-quarter 2018, making it difficult for prepaint suppliers to pass along the additional cost. "Usually October is a great month for us in the Southeast, but not last October. Demand was not that strong," the executive noted.
Sherwin-Williams did not respond to SMU's request for comment.

Latest in Economy