Steel Mills

AK Steel Celebrates Strong 2018
Written by Sandy Williams
January 29, 2019
---
The big news for AK Steel this week was the closing of Ashland Works, but the company also posted remarkable financial results for full-year 2018.
Sales in 2018 increased 12 percent to $6,818.2 million, generating net income of $186.0 million, a 25 percent increase from 2017. Increased sales were driven by higher carbon steel pricing during the year. Adjusted EBITDA of $563 million for the full year was AK Steel 's best year in a decade. Shipments in 2018 totaled 5,683,400 tons.
AK Steel reported fourth-quarter net income of $33.5 million, down from a 10-year record of $67.2 million in third-quarter 2018. Fourth-quarter results included a pension settlement charge of $14.5 million. Total shipments of 1,388,700 tons slipped 2.5 percent from 1,424,000 tons in the third quarter due to seasonal slowing in the automotive and distributor markets. Average price per ton of flat rolled steel was $1,106 during the quarter.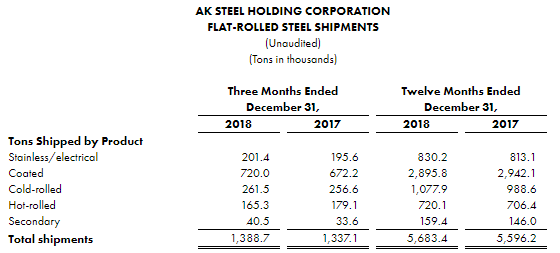 AK Steel has scheduled a major maintenance outage for its Dearborn mill to repair a steelmaking vessel that was damaged in December. Steel penetrated the brick lining and shell, requiring a vessel reline that will impact operations in the first quarter. Repairs should be completed in early February, but the company will suffer a loss of 35,000 tons of production during the period. No disruption is expected in shipments to customers. Dearborn will also have a $60 million upgrade to the blast furnace and steel shop later in 2019.
The closing of Ashland Works will take place over the balance of 2019 with production transferred to other galvanized lines within the company. Because the Ashland blast furnace has been idled for the past three years, closure of the mill will not have any impact on current slab production. AK Steel utilizes about 2.5 million tons of slab in its rolling mills annually, which is mostly produced at Middletown and Dearborn. It also has the ability to produce as much as 500,0000 tons of slabs at Butler if needed.
AK Steel secured higher steel pricing in recently negotiated carbon automotive contracts, resulting in expanded margins for carbon automotive sales, as well as improved positioning for adoption of new products. Specialty steel contracts will also generate higher margins, but may be offset by carbon spot and non-automotive contracts, said President and COO Kirk Reich. He expects that 30 percent of shipments in 2019 may see softening depending on future carbon spot market prices.
AK Steel management expects demand in 2019 to be consistent with 2018 across most markets the company serves. Flat rolled shipments are expected to be about 5.9 million tons in 2019 with average flat-rolled selling prices similar to 2018. Adjusted EBITDA for the year is anticipated to be $160 million to $180 million. The company plans capital investments of $170 million to $190 million in 2019, including $25 million to $30 million of growth-related investments for Precision Partners and AK Tube.
AK Steel will no longer provide quarterly guidance beginning with calendar year 2019.

Latest in Steel Mills