Steel Products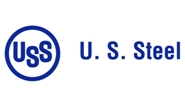 EAF Construction to Resume at U.S. Steel Fairfield
Written by Sandy Williams
February 11, 2019
---
U.S. Steel has formally announced it will restart construction immediately on its Fairfield electric arc furnace facility. Construction on the EAF began at U.S. Steel's Tubular operations in Fairfield, Ala., in March 2015 and was suspended in December 2015 due to unfavorable market conditions.
"We are pleased to announce the achievement of the market and performance stage gates required to restart our Tubular Segment EAF. This investment is an important step to improve our cost structure and positions our Tubular business to win over the long-term. We are committed to investing in the sustainable steel technology required to be a value-added tubular solutions provider for our customers," said Burritt.
Burritt cited strong trade action by President Trump and incentives from the state and county for the decision to restart construction.
The investment to complete the EAF, which includes modernization of the existing rounds caster, is expected to be approximately $215 million and add about 150 full-time employees. The EAF will have an annual capacity of 1.6 million tons. Construction is to begin immediately with production of the first steel rounds anticipated in the second half of 2020.
Latest in Steel Products