Steel Products Prices North America
CRU: North American Zinc Demand Expected to Remain Flat in 2020
Written by Sam Grant
December 20, 2019
---
By CRU Analyst Sam Grant, from CRU's Zinc Monitor
The North American market (U.S., Canada and Mexico) accounts for approximately 9.6 percent of global refined zinc demand. This year, we have seen a sharp slowdown in both global trade and industrial production, with the North American region experiencing its slowest rate of IP growth since 2016. On a country-by-country basis, Mexico has seen the greatest degree of economic and industrial weakness in 2019, with the U.S. and Canada continuing to see modest rates of growth. Despite domestic frictions impacting North American trade of steel and other metals due to Section 232 and retaliatory tariffs in the opening few months of this year, we estimate that refined demand has remained broadly stable, declining just 0.2 percent y/y in 2019. The weakest North American end-use demand sector throughout 2019 has been automotive, while construction-related activity has remained supportive.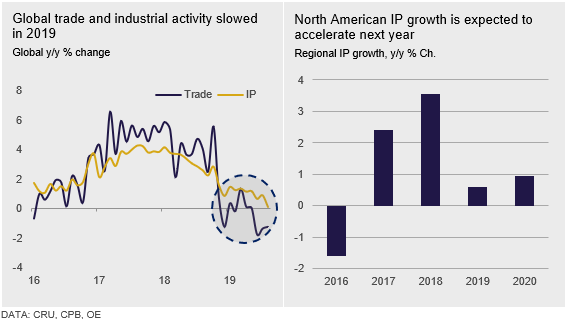 Pickup in North American Industrial Output Expected in 2020, Yet Automotive to Remain Weak
In the U.S., we forecast that industrial production (IP) growth will accelerate to around 1 percent next year, largely driven by an expected recovery in the broader manufacturing sector, where it seems that current weakness has bottomed out. Growth in the U.S. construction sector is also expected to pick up in 2020, to around 2.0 percent, following on from stronger than expected residential starts this year. In contrast, the U.S. automotive sector is forecast to remain weak and deteriorate further in 2020, with negative growth of 2.2 percent.
Following on from a particularly weak 2019, which saw Mexican IP decline 1.3 percent, we forecast a return to marginal growth of 0.8 percent in 2020. The Mexican automotive sector, which constitutes almost a quarter of regional automotive output, is expected to see tepid growth of 0.5 percent next year, while the outlook for the rest of North America is for further declines in output. Canadian IP growth has effectively remained flat this year, and we forecast relatively robust growth of 1.1 percent in 2020. As with the rest of the North American region, the relatively small Canadian automotive sector has performed very poorly this year, and we are forecasting further steep declines in 2020 (-9.8 percent). However, the new U.S.-Mexico-Canada Agreement (USMCA) and recent finalization of the U.S.-China Phase 1 trade deal should be positive for the broader economic and geopolitical outlook next year.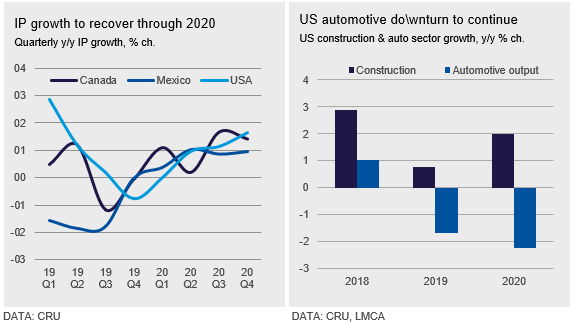 Refined Demand to Remain Flat in North America
We are forecasting that refined demand will remain flat in North America next year, with total galvanized sheet production expected to decline approximately 4.2 percent on the back of weak automotive sector demand. We estimate that the North American automotive sector constitutes approximately 28 percent of regional end-use refined zinc demand, which is significantly higher than the global average of 9-10 percent. This is due to both the high number of vehicles per capita in the U.S. and the larger average vehicle size compared to those produced in other regions. Regional demand from the brass sector was also weak this year, with copper alloy production declining 2.4 percent y/y, although we expect a return to marginal growth (0.7 percent) in 2020.
Although regional demand is expected to remain flat in 2020, there are some variations in growth by country. In the U.S., we expect refined demand to decline 0.2 percent, with zinc consumed in galvanized sheet falling 3.4 percent. The removal of Section 232 tariffs on steel products could adversely impact U.S. domestic production going forward as it will make Canadian and Mexican exports more competitive.  We estimate that general galvanizing and die casting constitute approximately 20-25 percent and 15-19 percent of total U.S. zinc demand, respectively, and manufacturers exposed to the construction sector should fare better, thus we expect modest refined demand growth in this sector.  Mexican refined consumption is forecast to grow 0.9 percent in 2020 due in part to an increase in galvanized sheet capacity. This follows on from major weakness this year, which saw galvanized sheet output decline 12.8 percent. Our Steel Sheet team suggests that Mexico's galvanized sheet capacity will grow strongly going forward and Mexico is therefore expected to be the main area of refined demand growth in the region. In Canada, the smallest zinc consumer in the region accounting for just 13 percent of the regional total, we forecast zinc demand will decline 2.0 percent in 2020, with galvanized sheet production declining 3.7 percent.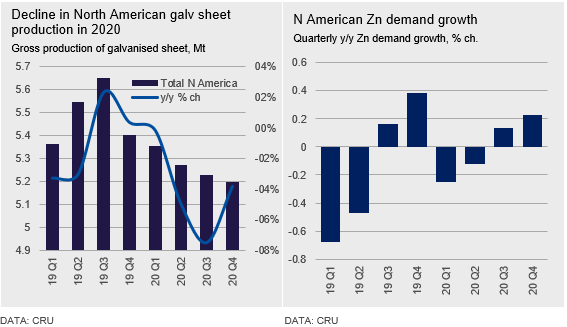 Key Risks in North America Diminishing for Now
The risk of a North American recession has receded in recent months. Our original estimate earlier this year was a 40 percent 2020 probability of recession, but we have since reduced this to 35 percent, following the September and October Fed rate cuts and the finalization of the U.S.-China Phase I trade deal. The yield curve, a recession bellwether, is no longer indicating a recession so strongly, so we are no longer factoring a U.S. recession into our macroeconomic base case forecast for next year. 
The imposition of further tariffs by the U.S. on Mexican or Canadian zinc-related goods was another risk factor in 2020. However, the new USMCA should make for a more stable trade environment in the region. But it remains to be seen whether the new U.S.-China phase 1 trade deal will be the start of an all-encompassing deal or whether trade frictions flare up once again in 2020.
Request more information about this topic.
Learn more about CRU's services at www.crugroup.com
Latest in Steel Products Prices North America