Steel Mills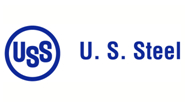 U.S. Steel Narrows Loss in Q3
Written by Sandy Williams
September 19, 2020
---
U.S. Steel expects another loss in the third quarter of 2020, but not as deep as in the second quarter. The steelmaker anticipates a $100 million adjusted EBITDA loss for the quarter compared to a loss of $264 million in Q2. The flat rolled segment is expected to be negative, but "significantly better" than Q2. 
Order book and lead times have improved in the flat-rolled segment allowing the restart of three blast furnaces at U.S. Steel that were idled due to impacts from COVID-19. Two blast furnaces will remain idled through the end of this  year.
The tubular market appears to have bottomed, but is showing few signs of improvement. Tubular earnings are expected to be similar to second quarter.
Market conditions have improved in Europe and order book and lead times bode well for continued recovery.  An improvement for third-quarter results is expected.
"Improving market conditions experienced in June and July have accelerated through August and September. Strengthening steel fundamentals and our ability to respond quickly to increasing customer demand are expected to result in significantly improved adjusted EBITDA in the third quarter," commented U.S. Steel President and CEO David Burritt. "We have grown confident in the recovery that is under way in North America and Europe."
Latest in Steel Mills