Service Centers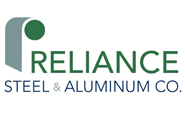 Reliance Points to Positives in Third Quarter
Written by Tim Triplett
October 22, 2020
---
Revenues from construction and toll processing exceeded expectations in the third quarter, offsetting some of the weakness in aerospace and energy, reported Reliance Steel & Aluminum Co. in its quarterly conference call today. Touting a record gross profit margin of 32.4 percent, executives of the industry's largest service center organization told analysts and investors they are pleased with the company's performance despite the economic uncertainty wrought by COVID-19.
"Our third-quarter tons sold surpassed our expectations, increasing 5.9% over the second quarter of 2020 due to improved demand in many of our end markets as the economy continued to slowly reopen following COVID-19 related customer shut-downs and project delays," said Reliance President and CEO Jim Hoffman.
Not surprisingly, Reliance's sales and income were down considerably compared with the pre-pandemic third quarter last year. Reliance reported third-quarter 2020 net sales of $2.09 billion, down from $2.69 billion in the prior year quarter. Net income totaled $98.3 million, down from $163.9 million in Q3 2019.
For the first three quarters of 2020, Reliance had net sales totaling $6.68 billion, down from $8.52 billion in 2019. Net income for the year to date was $241.9 million, about half the $539.8 million last year.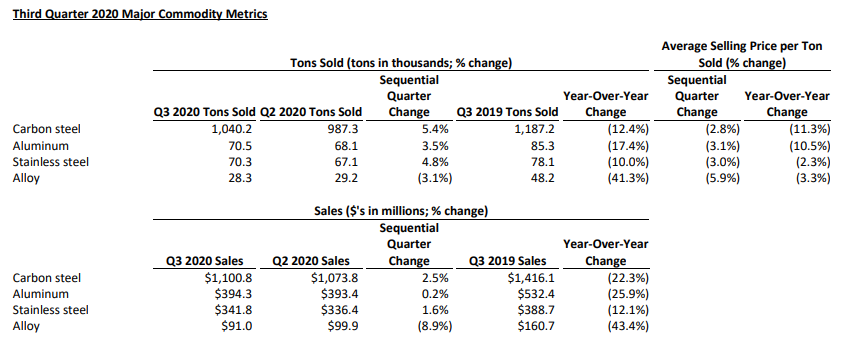 Reliance provides a wide range of products and processing services to a diverse range of end markets, generally in small quantities on a when-needed basis. During the third quarter, the company experienced improving demand in nearly all of the end markets it serves following customer shut-downs and project delays in the second quarter due to COVID-19.
Demand in non-residential construction, Reliance's largest end market, continued to slowly increase during the third quarter due to healthy bidding activity for new projects and the restart of projects that had previously been put on hold. Reliance is cautiously optimistic that demand for non-residential construction activity will continue to improve in the fourth quarter based on healthy backlogs and positive customer sentiment.
Demand for the toll processing services Reliance provides to the automotive market rebounded significantly in the third quarter as automotive OEMs and steel and aluminum mills continued to ramp up production following COVID-19 shutdowns in the second quarter. Reliance increased volumes at its toll processing operations in both the U.S. and Mexico and was able to recall the majority of its furloughed toll processing workforce servicing the automotive market.
On the negative side, Reliance's sales to the commercial aerospace market continued to decline in the quarter as a direct result of reduced air travel due to COVID-19. In response to reduced commercial airplane build rates that are expected to continue at low levels, Reliance further reduced its workforce at certain branches. Demand is better in the military and defense portions of its aerospace business, the company noted.
Demand in the energy (oil and gas) market remains under significant pressure. Reliance closed certain facilities earlier in 2020 and continues to implement cost reduction measures. Renewable energy, such solar and wind power, remain a bright spot for metal sales to the sector.
Looking ahead to the fourth quarter, Reliance expects demand to continue slowly improving, though it expects to sell 4-6% fewer tons due to normal seasonal factors. Higher steel prices in the fourth quarter will be offset by lower prices in higher-value products such as aerospace metals.
Los Angeles-based Reliance operates 300 locations in 40 states and 13 countries outside of the United States, focusing on small orders with quick turnaround and increasing levels of value-added processing. In 2019, Reliance's average order size was $2,090; approximately 51% of orders included value-added processing and 40% of orders were delivered within 24 hours.

Latest in Service Centers