Scrap Prices North America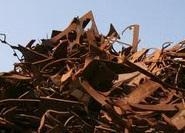 Ferrous Scrap Prices Likely to Decline in February
Written by Tim Triplett
October 29, 2020
---
Following big jumps in December and January, ferrous scrap prices are expected to moderate in February. Steel Market Update sources predict obsolete grades could drop by $30-50/GT and prime grades by $10-20/GT due primarily to the large amount of scrap offered to the mills in January and the weakening export market.
"Scrap dealers are lowering their scale prices and the scrap food chain is rushing to ship as much as possible at the January levels," said a dealer in the Northeast. "As in many previous scrap markets, the pricing pendulum is swinging further than it should—too far up in January and too far down in February. Macro business conditions are not nearly as volatile as the scrap price swings suggest. Domestic demand for scrap continues to grow and a drop in excess of $40-50/GT will result in much lower inbound flows and dealers reducing their tonnage offers. This ultimately will result in a rebound later in the month or into March, which historically is quite common," he added.
Another scrap exec said he expects February scrap prices to follow export demand downward. Export bids have declined by more than $50/GT over the past month. "Chinese export rebar sales have slowed into Asia, and heading into their upcoming holiday they are not expected to pick up for at least a few weeks. This has pushed the price of rebar lower by $30/GT or so. Turkish rebar sales into Asia have dropped similarly, prompting the Turks to withdraw from the global scrap markets following a whirlwind of buying activity from mid-November through early-January. So, I expect U.S. scrap prices to drop hardest along the coast next month," he said.
He also expects the February downturn to be temporary, with scrap prices recovering in March. "U.S. domestic demand for scrap remains strong, and prime grades remain quite tight. Further, while obsolete scrap flows have strengthened as the market peaked in January, a lot of those sales may not repeat at much lower prices in February, which would cause material flows to dry up from current levels. Shredders have already begun lowering feedstock prices in anticipation of a lower market. This is typical of a late-January/February market maneuver. Which is to say prices will drop during the trade, the mills would like to buy more scrap than is available, export demand improves, and then prices begin to reflate to some degree into early-March."
CRU Senior Analyst Ryan McKinley concurs that most signs point toward a fall in scrap prices during February, including an increase in domestic obsolete scrap caused by high price levels, a weakening international market and a slowdown in the pace of finished steel price increases. "Depending on the size of February's drop, mills may need to raise prices again in March should supply fall away from the market too quickly. Prime grades, however, are unlikely to fall by as much given market tightness for those grades—partially as the result of a chip shortage in the automotive industry," McKinley said.
Looking further out, CRU expects prices to revert closer to their 10-year mean of ~$330/l.ton for shredded scrap. "As shown by the chart below, we are in an atypically high price environment for scrap at the moment. Should the finished steel market turn lower later in 1H 2021 as we expect, we do think there generally will be more downside price pressure," he added.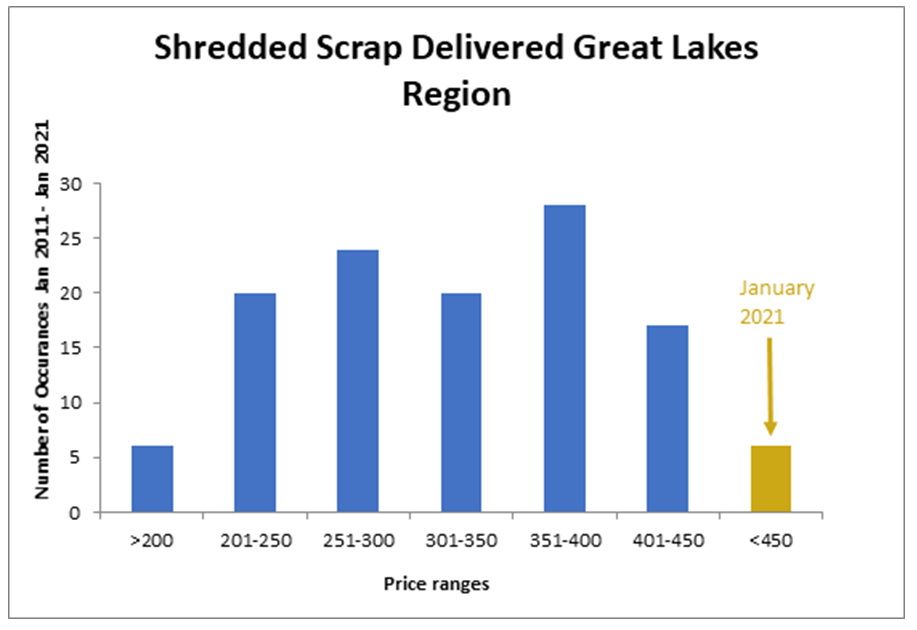 By Tim Triplett, tim@steelmarketupdate.com

Latest in Scrap Prices North America