Scrap Prices North America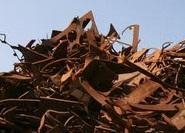 Ferrous Scrap to Start the New Year Strong
Written by Tim Triplett
October 29, 2020
---
Ferrous scrap prices are expected to trade significantly higher again in January on strong demand from mills both domestic and foreign, report Steel Market Update sources. Scrap jumped by more than $70/GT in December and the uptrend is likely to continue into the new year, lending further support to higher finished steel prices.
"Like many others, I expect a repeat of December price increases, with the biggest difference being that January will have many more tons bought and sold," said one dealer in the Northeast. "Prices for shred will most likely trade for $470-500/GT and primes should exceed $500/GT to mills throughout the country. Logistically, getting all of the scrap traded in January to mills before the February buying period seems a stretch. This factor, combined with a very hot export market, will delay the inevitable price correction that is looming."
The main push behind higher scrap prices in January is the upswing in the export market, with deals for 80/20 CIF Turkey earlier this month up significantly at $469/MT and shred at $460. These prices are higher by more than $75/MT from deals done just two weeks prior, reported another scrap exec. "This will drive U.S. domestic prices higher by at least an equivalent amount in January, in my opinion, and maybe more. We know that U.S. demand will be better than in December as most mills are in serious need of scrap and did not cover their needs this month. So, buckle up for the next ride higher!"   
Another source offered further color on the outlook for scrap as the new year begins: "The January scrap market is hard to quantify on an upward projection. The general feeling is there will be an increase of about the same level as December, up $70-80/GT. It's likely busheling and #1 bundles will be in short supply, and those grades could be up more than obsolescent grades like shredded and HMS. There are seasonal factors at play as well. The automotive stamping sector will not generate its full complement of scrap due to their holiday shutdown in December and the winter weather will impede the flow of obsolescent scrap into scrap processing facilities.
"The export markets still remain very strong, and many countries need scrap and are having trouble sourcing it. The recent sales to Turkey of HMS from the U.S. East Coast at $465-470/MT delivered are poised to increase even further as competition from Mexico and other Latin American mills is ongoing. Expect that market to rise over the $500/MT CFR threshold in the near future.
"Usually in March/April, after a winter of bullish prices, there is an increase in supply, especially of shredded and HMS grades. This usually results in lower prices as material becomes more abundant. I would expect this to occur in the spring of 2021 too. However, I don't expect major drops of more than $50/GT at a time. This is because export scrap is sold forward more than a month at a time. Also, pig iron is also sold forward even more so. But at some point the markets will correct as they always do. It's just too early to say when," he added.
Pig Iron Market
Commented one pig iron trader: "The pig iron markets are also still very bullish. The U.S. EAF mills needed fast moving tons of material due to their inactivity in the world pig iron markets in Q3 and into October. This necessitated them having to buy cargoes from Chinese traders/mills who had bought earlier this year and their cargoes were now ready for shipment. The prices paid were about $510/MT CFR U.S. ports. This news excited the iron markets even more and producers in Brazil and CIS increased their offers higher for shipment in April at the earliest. The new offers are reportedly in the area of $570-600/MT CFR U.S. ports. 2008, look out!!"

Latest in Scrap Prices North America