Steel Mills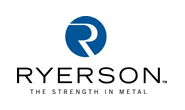 Ryerson CEO: Uneven and Unusual Recovery Ahead
Written by Sandy Williams
November 1, 2020
---
Ryerson Holding Corp. reported incremental improvement in third-quarter 2020. Ryerson's Q3 revenue increased 7.7 percent to $832 million, but the service center company posted a net loss of $39.9 million, which included a $52 million charge related to pension liabilities and 17.1 million in expenses related to the refinance of 2022 notes. Adjusted net income was $11.9 million.
Ryerson's shipments rose by 5.8 percent and the average selling price by 1.7 percent. Carbon steel shipments jumped 4.4. percent to 377,000 tons.
The company saw gradual improvement across bookings, shipments and revenues during the quarter. In September, shipments were at 85 percent of pre-Covid levels and bookings at 90 percent, primarily due to momentum in end market restocking. Prices also improved during the quarter beginning with stainless and followed by aluminum and carbon steel. Carbon prices continued to improve in September and October.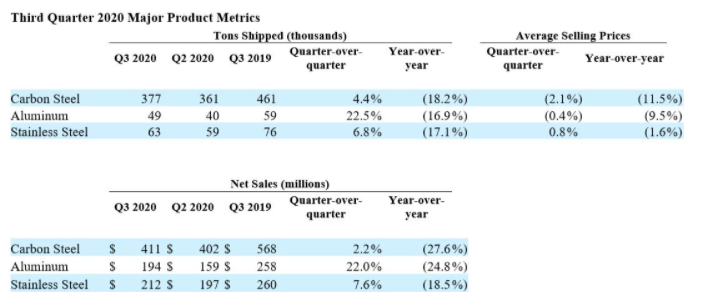 Central Steel & Wire completed the conversion of an ERP system in the third quarter, which impacted earnings but will provide improved efficiency and customer service. CS&W incurred $3.2 million in reorganization costs during the quarter and a revenue loss of $30 million during the conversion period Aug. 10  through Sept. 30.
"Macroeconomic indicators reflected what we believe is the beginning of an uneven and unusual recovery with a multitude of unknowns," said President and CEO Eddie Lehner. The Purchasing Managers Index expanded for a fourth month, but U.S. industrial production, while improved from earlier in the year, recorded an average 7 percent year-over-year contraction over the past three months. The latest MSCI shipment data was 10.9 percent below a year ago, but improved from Q2 2020.
Customer activity continued to improve, albeit unevenly during the third quarter., the company said. Compared to the second quarter, volumes in commercial ground transportation, consumer durables, food processing and agricultural equipment and the HAVC sector all improved, while metal fabrication, machine shop industrial equipment and construction equipment declined.
Pointing to surprising trends in recent months, Lehner noted that there is still a lot of dislocation in the supply chain, particularly for overseas goods. Activity has been high in home furnishings and appliances. The automotive recovery is trending at rates not thought possible back in April and May.
Ryerson did not offer fourth-quarter guidance due to uncertainties resulting from the continuing pandemic. "We do note, however, that through the first several weeks of the fourth quarter, per day trends in revenue, gross margin, average selling prices, and volumes are moving higher relative to the third quarter as industrial metal commodity price drivers have improved along with restocking-driven demand across a greater number of end markets."

Latest in Steel Mills