Steel Products Prices North America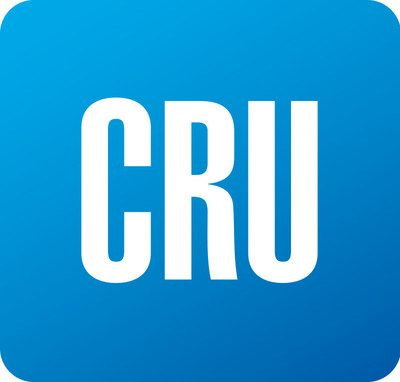 CRU: U.S. Sheet Price Cycle is One for the Ages
Written by Josh Spoores
December 8, 2020
---
By CRU Principal Analyst Josh Spoores, from CRU's Steel Sheet Products Monitor
U.S. Steel announced the full buyout of Big River Steel this week, while Cleveland-Cliffs closed on its acquisition of ArcelorMittal's U.S. assets. In any other week, these headlines would drive the news flow for steel buyers and sellers. However, news this week remains firmly around the parabolic move in steel sheet prices.
Sheet prices in the U.S. Midwest market have maintained their upward trajectory from the August lows as demand continues to recover from the 2020 Q2 lows while supply remains limited due to mill outages and various production disruptions. For HR coil, CRU prices this week rose to $845 /s.ton, a w/w gain of $84 /s.ton. Prices are now 93% higher than the August lows. Furthermore, HR coil prices continue to set records in terms of the speed of this price cycle.
While this is an incredible upswing in prices over just 17 weeks, mill lead times remain extended while steel consumers continue to revise their demand forecasts higher. Due to this combination, some mills are now said to be asking well over $900 /s.ton for HR coil. Further price gains for sheet products are expected with the potential for HR coil to surpass $1,000 /s.ton.    
For CR and HDG coil, CRU's price assessment has now surpassed $1,000 /s.ton. Alongside these higher prices, some mills have started to announce higher zinc coating extras for HDG coil. CRU's current coating extra for G90 .06" substrate is $70 /s.ton, yet based on higher zinc costs and updated mill coating extras this may be assessed higher as soon as next week.
U.S. West Coast steel buyers are carefully monitoring steel prices in the rest of the country and bracing for price increases when California Steel Industries and USS-Posco open their order books for March deliveries. CSI recently announced a large increase in zinc coating extras set to take effect on Jan. 1, 2021. Service centers that purchased imported material early for delivery in 2021 Q2 are encouraged that domestic prices have risen further than previously expected. As for current import orders, buyers are now awaiting new mill offers that reflect recent gains in global sheet prices.
In Mexico, HR coil prices remained somewhat stable from November while CR coil prices increased by 3.6% m/m. The recent appreciation of the Mexican peso has prevented prices from increasing further despite the strong movement seen in U.S. Midwest prices this month. The supply tightness continues to play the main role in the Mexican market, as there are signs that the seasonal demand lull is starting to kick in. However, the lack of availability, which has kept prices firm, is expected to last until the end of 2021 Q1, when supply is expected to be more normalized. According to Alacero data, Mexican flat products output was 14% lower y/y in September, while longs production increased by 8% y/y in the same month. The resilience of the construction sector has given support to longs production and demand, while the pandemic hit to automotive sector demand is still echoing in the sheet market.
Outlook: $1,000 HR on Tap? Q1 Turning Point at Hand
Sheet price gains have come about since August as apparent net consumption has rebounded at a faster pace than available supply. Not only has demand risen, but these gains have come at a time when inventory levels were historically low and needed rebuilding to support rising demand. Based on our estimates, available mill capacity has increased nearly 18% in 2020 Q4 from 2020 Q2 levels. However, over this same period, apparent net consumption has risen 21%. Since 2020 Q2, various idled blast furnaces have been restarted, yet supply has been hindered by multiple unplanned disruptions.
Over the near term, primarily 2021 Q1, we expect that available supply will rise at a faster pace than demand. These gains in supply (see chart) come from not only a restarted furnace at U.S. Steel and the ramp up of production at Big River Steel's new EAF furnace, but we will also see a variety of production disruptions ease. Indeed, recent disruptions have come from Canadian producers Stelco and ArcelorMittal Dofasco as well as the disruption of slab converters that had operations slowed by political factors limiting the import of Brazilian slab. Further, we expect that 2021 Q1 will also bring the restart of JSW Mingo Junction as well as an idled blast furnace at AHMSA. The following chart details our views on rising supply excluding the AHMSA furnace in Mexico. While demand will continue to rise and inventory building may persist, we anticipate that prices will peak mid-2021 Q1.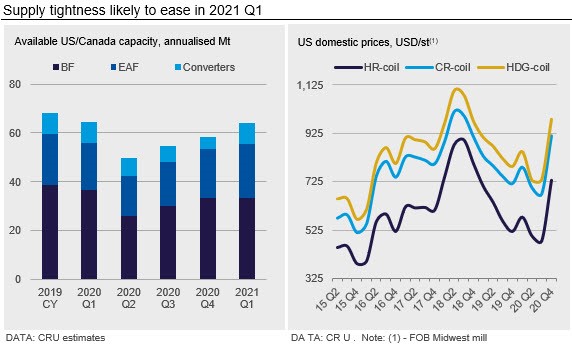 Request more information about this topic.
Learn more about CRU's services at www.crugroup.com
Latest in Steel Products Prices North America