Steel Mills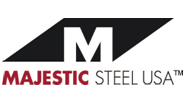 Majestic Steel Extends Footprint to Nevada
Written by Sandy Williams
December 15, 2020
---
Majestic Steel has completed the acquisition of P&S Metals and Supply, a Las Vegas-based steel service center and processor. The addition of P&S will extend Majestic's footprint in Nevada and the western United States.
"We are happy to welcome P&S Metals and Supply to the Majestic family," said Todd Leebow, Majestic President and CEO. "P&S has a great reputation that's been well earned over their 42 years in business. We look forward to continuing to support the existing business while pursuing growth in the region. As a combined team, we are committed to providing quality products and service to our customers."
P&S Metals is a processor, supplier and distributor of hot rolled, cold rolled, galvanized, electrogalvanized, stainless, aluminum, painted and coated sheet and coil. The company is a major supplier of sheet metal products to HVAC, signage, slot machine, computer and sheet metal users.
Majestic Steel USA, founded in 1979 and headquartered in Cleveland, is a privately held and family owned distributor and processor of flat-rolled steel serving customers in manufacturing, construction and distribution from its network of locations throughout North America.
Latest in Steel Mills