Service Centers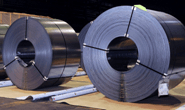 Norfolk Iron & Metal Expands into Northwest with Cd'A Purchase
Written by Sandy Williams
December 17, 2020
---
Norfolk Iron & Metal, a full-line steel service center based in Norfolk, Neb., will acquire the Coeur d'Alenes Company (Cd'A), a service center and processor headquartered in Spokane, Wash.
"We are pleased to welcome the Cd'A team members to the NIM family," said Richard Robinson, chairman and CEO of NIM. "This investment represents a strategic opportunity to increase our capacity and geographic presence and is integral to our commitment to meet the growing needs of our customers. Cd'A Metals' complementary capabilities combined with its long history of success positions us well to further develop our business in the northwestern markets."
Cd 'A's three locations in the Northwest will further expand Norfolk's product lines and processing capabilities. The transaction is expected to close by Dec. 31, 2020.
Norfolk Iron & Metal operates 13 U.S. locations as a processor and distributor of non-ferrous and carbon flat rolled metal products.
Latest in Service Centers