Steel Mills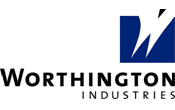 Quarterly Loss at Worthington Industries
Written by Sandy Williams
December 17, 2020
---
Worthington Industries reported net sales of $731.1 million and a net loss of $74 million for the second quarter of its fiscal 2021 ended Nov. 30 after accounting for nearly $150 million in pre-tax loss related to its investment in Nikola Corp. and $11.4 million in impairment and restructuring charges. In comparison, sales were $826.6 million in Q2 2020 and net earnings were $52.1 million. Eliminating the one-time charges for the recent quarter, Q2 set a record at $0.95 per share.
"We had an outstanding second quarter, despite some noise in the numbers, due to continued great work by our teams as we navigate the challenges of the ongoing COVID-19 pandemic," said President & CEO Andy Rose. "Steel Processing delivered strong year-over-year earnings growth, aided by stable automotive and construction demand and improving agricultural demand. Pressure Cylinders continued to experience solid demand for its consumer products, particularly for portable propane and helium products, while headwinds persisted in Europe and the oil & gas business."    
Sales for the quarter were down 12 percent from the prior year, driven by lower average selling prices in steel processing, lower volumes in the oil and gas equipment business in pressure cylinders and the divestiture of Worthington's engineered cabs business in FY 2020.
Steel supply remains tight, said Rose, along with some labor reductions due to the pandemic that reduced production in pressure cylinders. Rose expects, with employees returning from quarantine and new hires, the company should be back at full strength in a few months.
Market prices still face some upward pressure into January before supply comes back online, said Rose. "When prices get close to $1,000 for hot rolled, people get nervous," he said. "It doesn't get there very often. No cracks right now, but we are wondering when that might happen."
Worthington is looking forward to some attractive growth capex projects that are on the horizon and is prepared with $713 million in cash.
"We are optimistic that demand for our key end markets will remain steady," Rose said. "The tight steel market, while challenging, is an opportunity to differentiate ourselves from our competitors. As we enter 2021, we are well positioned, and will look to drive growth through innovation, transformation and strategic acquisitions."

Latest in Steel Mills