Economy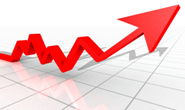 ISM Manufacturing PMI Climbs to 60.7 in December
Written by Sandy Williams
January 5, 2021
---
The U.S. manufacturing sector expanded again in December, gaining 3.2 points to register a PMI of 60.7 percent in the December 2020 Manufacturing ISM Report on Business.
"The manufacturing economy continued its recovery in December," said Timothy Fiore, chairman of the Institute for Supply Management Manufacturing Business Survey Committee. "Survey Committee members reported that their companies and suppliers continue to operate in reconfigured factories, but absenteeism, short-term shutdowns to sanitize facilities and difficulties in returning and hiring workers are causing strains that are limiting manufacturing growth potential. However, panel sentiment remains optimistic (three positive comments for every cautious comment), an improvement compared to November."
The production index hit a 10-year high last month, posting a score of 64.8 with five of the top six industries reporting moderate to strong improvement. The new orders index gained 2.8 points for a reading of 65.1.
New order intake outpaced production output in December. The backlog of orders index rose 2.2 points to 59.1  New export orders expanded at a slightly lower rate last month as did new import orders. "Panelists continued to note record breaking backlogs in ports of entry, as well as difficulty in arranging drayage and operating within the domestic transportation market," said Fiore.
Supplier performance deteriorated at a faster rate in December. The index rose 5.9 points to 67.6, indicating slower deliveries. (A score below 50 indicates shorter delivery times and a score above indicates longer times.) Inventories remained stable in December despite supplier challenges. Customer inventories were considered low for the 51st consecutive month indicating potential for future production growth, said Fiore. Primary metals was among the top three of 14 industries reporting customer inventories as too low.
The prices index rose 12.2 percentage points to 77.6 in December as raw material prices increased for the seventh month in a row.
"Manufacturing performed well for the seventh straight month, with demand, consumption and inputs registering strong growth compared to November," said Fiore. "Labor market difficulties at panelists' companies and their suppliers will continue to restrict the manufacturing economy expansion until the coronavirus (COVID-19) crisis ends," said Fiore.
Responses from panelists included the following comments:
"Fourth-quarter production improved more than anticipated, both against the rolling forecast and compared to typical Q4 business." (Primary Metals)
"COVID-19 outbreaks are causing supply chain issues for Tier-1 and Tier-2 suppliers. More work is needed to ensure suppliers keep us in the loop with any problem in their supply chain. But end-customer demand for products is keeping production and future outlook positive." (Transportation Equipment)
"Current business outlook is strong through the first quarter of 2021. We are anticipating 20 percent growth in sales for 2021." (Fabricated Metal Products)
"Sales are now slightly above pre-COVID-19 sales." (Machinery)
"Sales are now exceeding pre-COVID-19 levels, but uncertainty remains through the winter months while COVID-19 is still rampant." (Miscellaneous Manufacturing)
"Business is stronger than expected, with higher demand for many products. Volatility continues due to the very persistent pandemic and associated risks." (Electrical Equipment, Appliances & Components)
"Our company and industry are continuing to have tailwinds from the COVID-19 pandemic research support for vaccines and treatments. While our services are delayed, many customers are not canceling outright, and business picked up for us in the last month — especially in China, where business growth is back on track." (Computer & Electronic Products)
"Continued to survive COVID-19 shutdowns, customer restrictions and personnel issues (work from home and COVID-19 outbreaks) and managed to maintain slight growth over 2019." (Chemical Products)
"COVID-19 is affecting us more strongly now than back in March. Vendors/service suppliers are unable to maintain levels of service due to employee shortages. Logistic issues also are hurting us due to coronavirus-related problems." (Food, Beverage & Tobacco Products)
"Suppliers are having difficulty finding and retaining labor leading to supply constraints." (Plastics & Rubber Products)
Below is a graph showing the history of the ISM Manufacturing Index. You will need to view the graph on our website to use its interactive features; you can do so by clicking here. If you need assistance logging in to or navigating the website, please contact us at info@SteelMarketUpdate.com.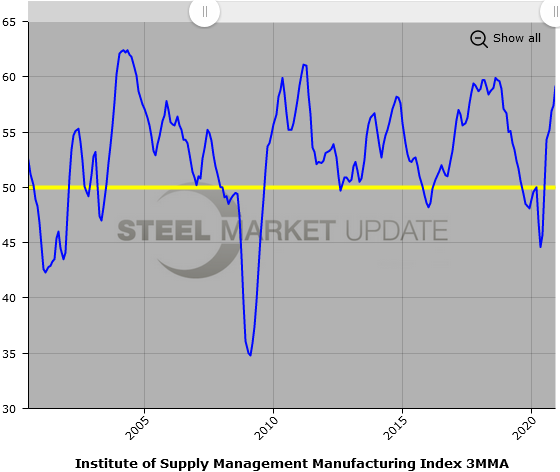 Latest in Economy