Steel Products Prices North America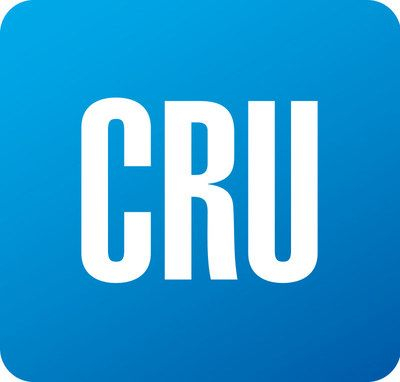 CRU: Iron Ore Steady at Just Over $170 Per Ton
Written by Erik Hedborg
January 8, 2021
---
By CRU Senior Analyst Erik Hedborg, from CRU's Steelmaking Raw Materials Monitor
Iron ore prices have held steady in the past week as restocking activities in China have continued and iron ore inventories at mills have been built up. At the same time, further disruptions in the supply chain have renewed supply fears in the coming weeks, which has contributed to the price remaining at a high level. On Tuesday, Jan. 19, CRU assessed the 62% Fe fines price at $173.0 /dmt, up by $1.0 /dmt w/w.
Chinese domestic steel prices tumbled last week as underlying demand further weakened. HRC and rebar price dropped by RMB80 /t and RMB160 /t w/w. Although economic results announced on Jan. 18 buoyed the steel futures price, the spot price did not follow suit, indicating that bearish sentiment is spreading in the physical market. Given lower steel prices and more high-cost raw materials being put into steel production, EBITDA margins for HRC and rebar dropped to 11% and 5%, respectively. This led some high-cost steelmakers to put BFs into maintenance, evidenced by lower surveyed BF capacity utilization rates.
While actual iron ore consumption fell, iron ore port outflow remained elevated. This was supported by the ongoing pre-CNY restocking, as mill inventories remained low by historical standards. Despite such elevated demand, iron ore port inventories built up last week, as weather disruptions diminished. However, the iron ore vessel queue lengthened from 159 to 172 with more shipment arrivals. This indicates the difficulties to convert iron ore on the ship to effective supply.
Australian supply has dropped in the past week, as usually happens in January. However, shipments are still stronger than at the same time one year ago. What is more concerning to the market is that a tropical low has formed north of Australia and is expected to turn into a tropical cyclone heading straight towards the Pilbara region. This is expected to happen on Friday, which would have an immediate impact on iron ore shipments in the coming week.
In Brazil, the big news in the past week has been the fire at Vale's "Pier 4" shiploader in Ponta da Maderia, the second largest iron ore port in the world. The shiploader loads mostly Valemax vessels and in 2020 shipped around 50 Mt, about 25% of Vale's exports from the Northern System. Our sources indicate that it could take up to six months for shipments to return to a normal rate as the repair work is carried out. Fortunately for Vale, January-May is a seasonally weak supply period due to high rainfall in northern Brazil. In addition, northern Brazil often sees slightly more rainfall during La Niña years.
In the coming week, supply side issues will persist and the market is expected to get more clarity on the extent of the damage at Ponta da Madeira. However, we are hearing negative signals on the ground in China with steel margins and steel prices falling at a rapid pace. In addition, high arrivals of iron ore to China are expected in the coming week as we are currently seeing the result of strong Australian shipments at the start of the year and high Brazilian exports in December. With this slight change of sentiment, we expect a correction to take place in the next week. However, there are supply side risks that could change the dynamic quickly.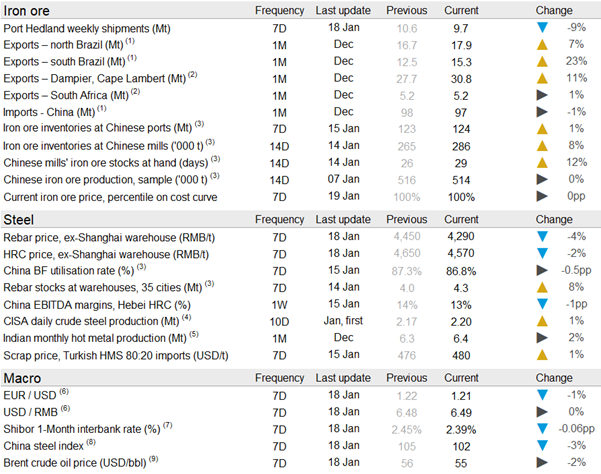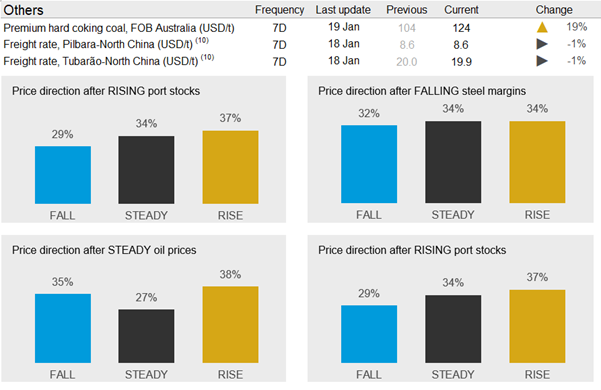 Request more information about this topic.
Learn more about CRU's services at www.crugroup.com
Latest in Steel Products Prices North America