Steel Mills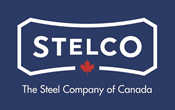 Stelco Commissions Pig Iron Caster
Written by Sandy Williams
January 28, 2021
---
Canadian steelmaker Stelco has successfully commissioned its new pig iron caster at Lake Erie Works. The new caster has the capability to produce one million tons of pig iron per year and will offer an alternative to scrap for EAFs and Stelco's own recently upgraded blast furnace.
Pig iron is expected to be an attractive commodity as electric arc furnace production expands and puts pressure on existing scrap supply. Stelco plans to offer a portion of its pig iron to the market, enhancing its portfolio of products ranging from pig iron, to semi-finished steel, to hot-rolled sheet, to high-value-added cold-rolled and coated products, as well as advanced high-strength steels.
"The commissioning of the pig iron caster completes the most recent of our many strategic investments in Stelco since mid-2017, which have modernized our facilities, diversified our product mix and positioned Stelco to succeed in various market cycles," stated Alan Kestenbaum, Executive Chairman and CEO of Stelco.
Latest in Steel Mills